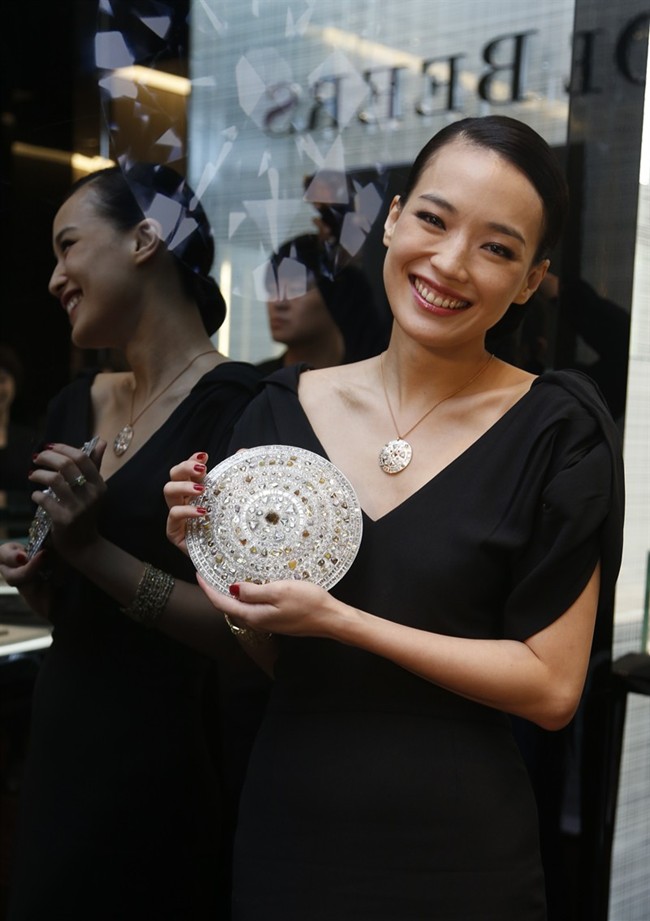 Shi Qi with one of eight Talisman medals
Esteemed jeweler De Beers bolted opened the doors to its first Shanghai store last week. Located at the Shanghai International Finance Centre in Pudong, the 75-square-metre boutique is decked out in warm and neutral tones, with plush furnishing and floor-to-ceiling glass windows.
In addition to the maison's jewelry and high jewelry collections, a collection of eight unique Talisman medals have been specially created to fete the opening of the Pudong store.  Set in the house's signature serti-poincon style, each medal features a magnificent rough diamond with a trove of shimmering diamonds surrounding it.
At the opening ceremony on August 30, award-winning actress Shu Qi showed off her svelte body in a figure-hugging Dior gown, complementing it with a scintillating Arpeggia necklace, a bracelet crafted in yellow gold with white and fancy coloured diamonds, and two solitaire rings, all from De Beers.
François Delage, CEO of De Beers Diamonds Jewellers, commented, "We are proud to continue to build the brand in China with the opening of our first store in Shanghai after the successful openings in Beijing, Tianjin and Dalian. As the sole diamond jewellery specialists, we are delighted to share our exceptional passion and expertise in diamond selection, craftsmanship and diamond jewellery design with one of the most discerning markets."
Andrew Coxon, President of De Beers Institute of Diamonds, continued, "Every De Beers diamond is meticulously hand-selected for beauty to ensure that it has exceptional Fire, Life and Brilliance. We know that the highly discerning clients in China will no doubt appreciate the superior sparkle and transparency that our specially selected diamonds exhibit."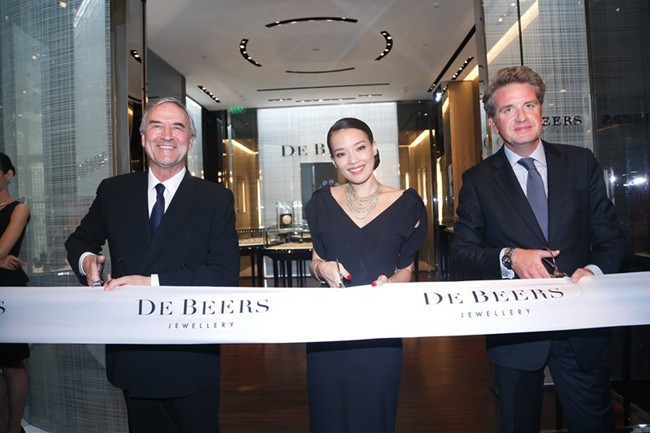 (L-R) Andrew Coxon, Shu Qi and Francois Delage
Shu Qi