After a bit of polishing, French silverware house Christofle has re-opened its gleaming 25 year old flagship boutique at the swanky Hilton Shopping Gallery, a revamp that ushers in the brand's global rejuvenation initiative.
Flying in specially for the opening ceremony was Thierry Oriez, President & CEO of Christofle, who was flanked by Benjamin Bilteryst, Managing Director of Chritofle Asia-Pacific; Tay Ai Hoon, General Manager of HPL Properties Pte Ltd; and Emmy Tellier, Retail Manager of Christofle Singapore, who were on hand with their pairs of scissors (in sterling silver, no doubt!) to help out with the ribbon-cutting ceremony.
The re-opening cocktail bash proceeded with friends of the brand being treated to a gorgeous showcase of select pieces from Christofle's Haute Orfèvrerie collection, to the stirring strains of classical and jazz favorites played live by a string quartet on site. Bubbly was provided by Perrier Jouet, enlivening the mood considerably as guests mingled amidst the fine silverware on display in the airy expanse of the boutique.
Another highlight was the presence of Christofle's Master Engraver Marc Rapaic, who brought a bit of Parisian artisanal flair to Singapore with his live demonstration of his craft. Most delightful was the opportunity for guests at the cocktail to have their initials or messages engraved by the Master on their Christofle silver objects.
Scroll down to see the beautiful shiny people posing amidst beautiful shiny silverware, and head down to Christofle to see if you can get something to spruce up your home this festive season.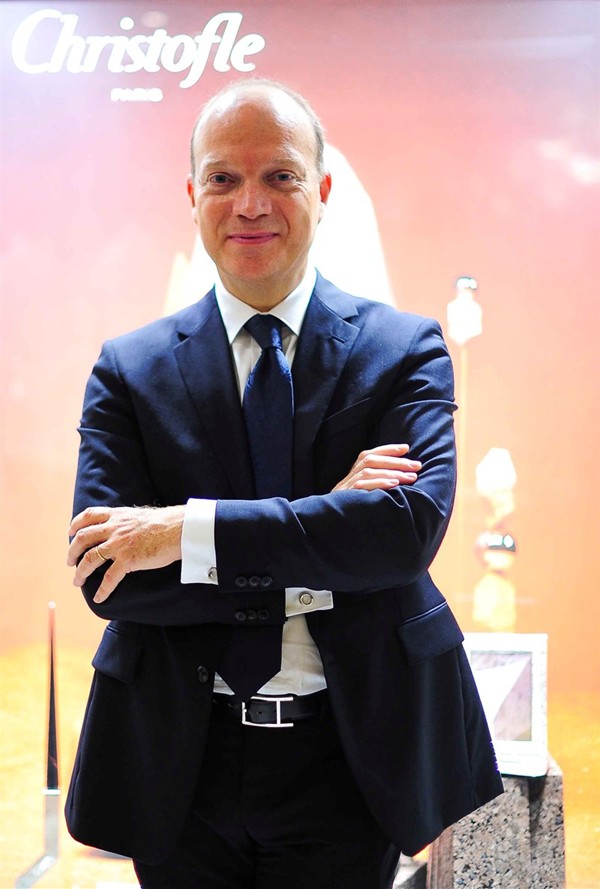 Thierry Oriez, President & CEO of Christofle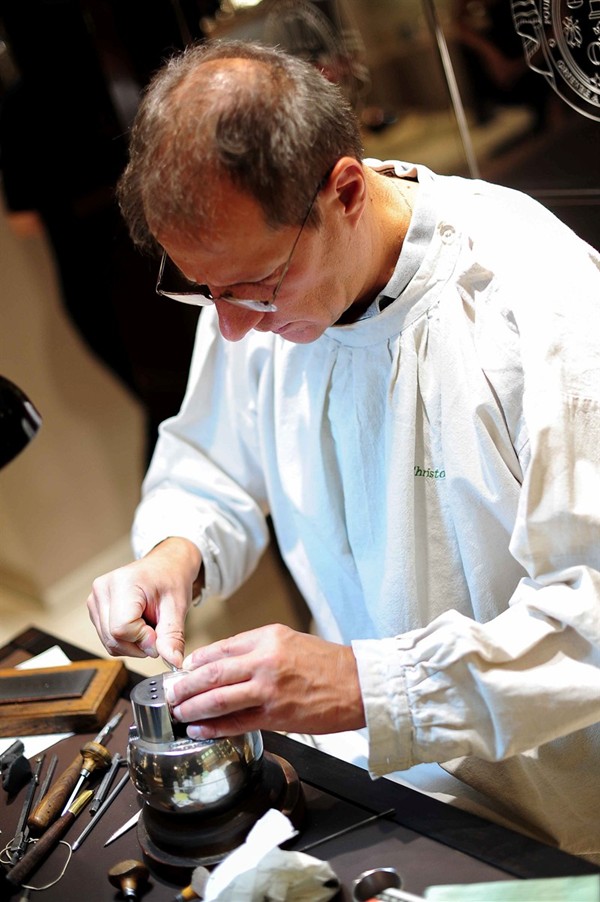 Christofle master engraver Marc Rapaic demonstrating the artisanal beauty of the ritual of silver-making