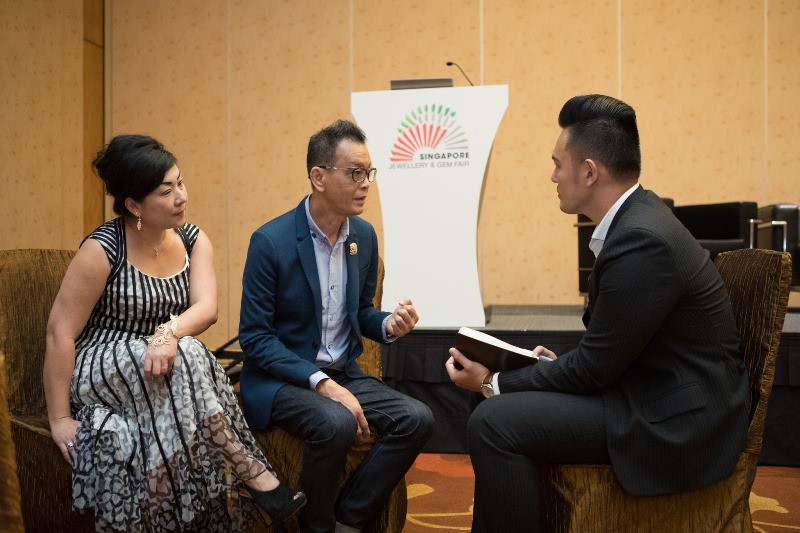 (L-R) Mrs Carol Kwan, Mr Thomis Kwan, Foundation Jewellers, interviewed by WardrobeTrendsFashion CEO, Herbert Rafael
Much curiosity and buzz surround Foundation Jewellers, a Singapore-founded company that prides itself in handmade Peranakan-styled jewellery. Widely recognized for their seamless blend of traditional yet modernized pieces, they have recently sprung even more in popularity and is now renowned for adorning and delighting Queen Elizabeth II.
WardrobeTrendsFashion CEO, Herbert Rafael catches up with owners Mr Thomis and Mrs Carol Kwan to find out more about exquisite Peranakan jewellery and the things that make Foundation Jewellers a cut above the rest.
Has, and will, the value of Peranakan jewellery continue to increase with years?
The value of our Peranakan jewellery will escalate in years to come. Reasons being that firstly, these jewellery are all handcrafted. It takes years for a craftsman to be trained and hone his skills to the required standard to produce the quality which Foundation Jewellers have achieved today. We foresee an uphill task of grooming the next generation of craftsmen to achieve better and better work.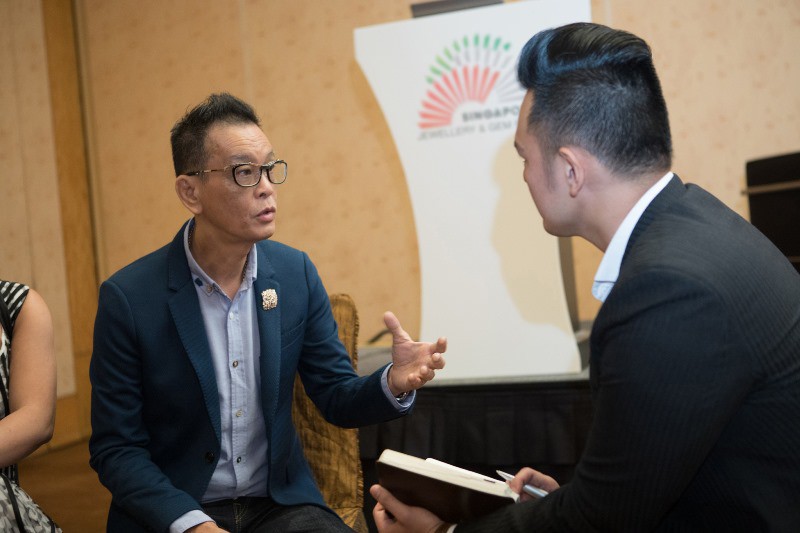 Are there any notable people wearing your designs?
Presently, we can count two world dignitaries who own our jewellery besides many high-profile businessmen and professionals in Singapore.
Queen Elizabeth II of England has worn our 'Bird of Paradise' brooch on at least fourteen occasions since President Tony Tan presented the brooch in 2012 on Her Majesty's Golden Jubilee.
Michelle Obama is the proud owner of another of our exclusive design 'Lovebirds in Orchid City', presented to her by our Prime Minister Lee Hsien Loong in July this year in celebration of 50 years of Diplomatic relations between the two nations.
Peranakan jewellery by Foundation Jewellers is unique in that the designs are first hand-drawn and then hand-chiseled and tempered into the 3-dimensional shape, followed by smoothing and polishing. An average brooch will require a skilled craftsman 2-3 weeks to complete. Our quality finish is already the industry standard recognized by clients and competitors alike.
————————————————————————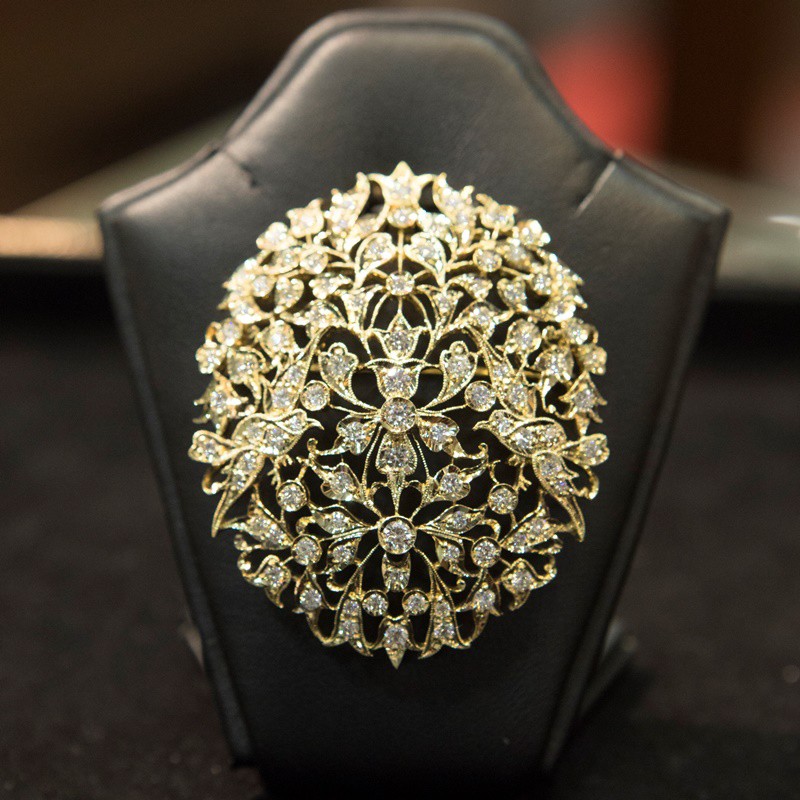 The picture of the pendant is part of the collection named 'The Tiara', this traditional Peranakan Brooch/Pendant with brilliant-cut diamonds set in 18k yellow gold symbolize both the grandeur of royalty with the virtue of angels.
————————————————————————
Where do you get your design inspiration from?
Traditional design elements such as the phoenix, animals, flowers, birds, etc. are a constant source of inspiration. And true Peranakan jewellery lose their authenticity without these traditional design elements. Whilst keeping these elements to maintain authenticity, we update the designs in trend with today's customer expectations with new interpretations with the addition of jade, colored gemstones and fluidity and livelier movements.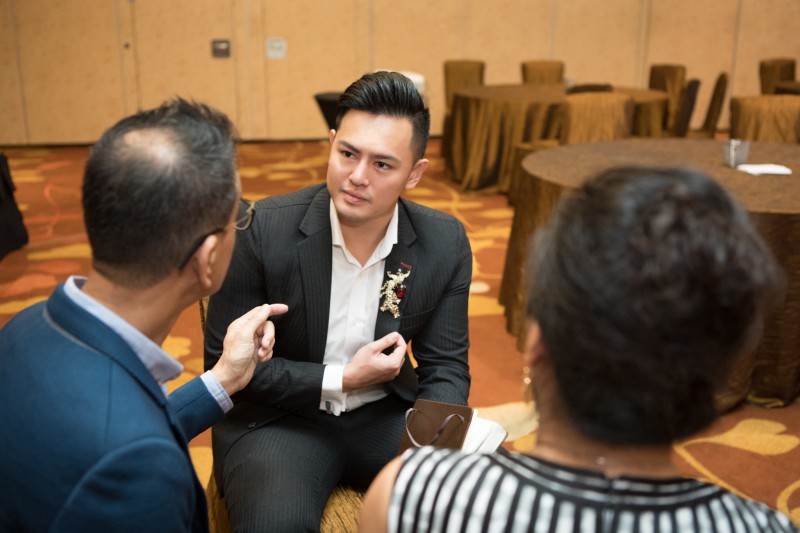 Herbert Rafael wearing one of Foundation Jewellers' intricately crafted brooches
What are the events and work that you do to promote Peranakan heritage and culture?
We have been working closely with the Peranakan Association as far back as 2004 and have been invited to participate in their yearly events. Also with the Peranakan Museum, since its inception in 2008.
In 2009, the Peranakan Museum successfully organized 'Baba Bling', a 6-month campaign to promote Peranakan culture with special emphasis on their jewellery. Foundation showcased its jewellery extensively in the fashion show event. 'Baba Bling' was subsequently brought to Paris, France in 2010, where it received a great reception.
We also participate in important Trade Fairs both in Singapore and overseas (Sharjah, UAE; Hong Kong, etc.), as well as exclusive events in partnership with other Peranakan-related organizations and activities to support and promote awareness of Peranakan culture and heritage.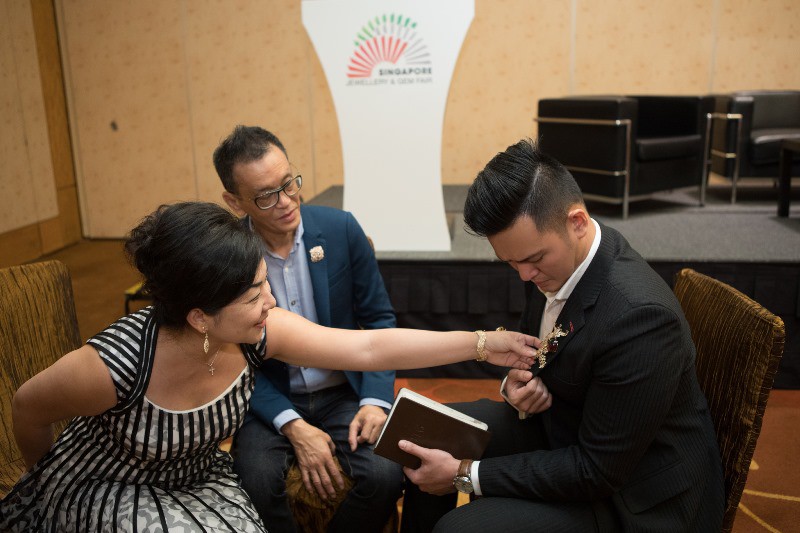 Whom do you see these jewellery appealing to?
We have jewellery which appeal to both men and women alike, like brooches and pins and cufflinks, tie and lapel pins.
At very important events, many men who are not 'Baba' are seen wearing our Peranakan jewellery on jacket lapels, sleeve cuffs and even rings. Today, we see many clients who view the jewellery as pieces of art and they 'collect' the pieces as objects d'Art.
We also see a gradual increase of young adults who take an interest in wearing Peranakan gold jewellery for its unique fresh appeal.
What are the standard pieces that a man and the woman wears?
Standard pieces for women are the kerosangs, necklaces, earrings, bracelets, pendants, brooches and rings. For men, many of them are very fashionable with our cufflinks, lapel pins, rings and even brooches on batik shirts.
————————————————————————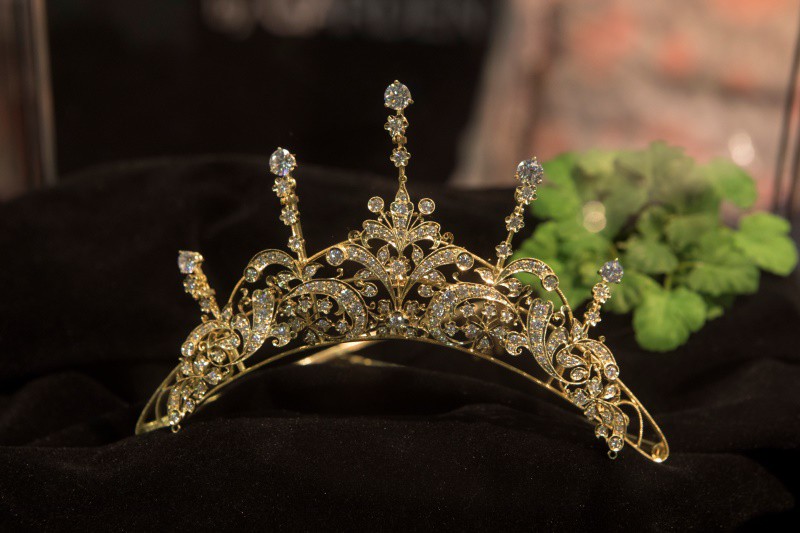 The Tiara is handcrafted and is embroidered in a brilliant gold case with five 1.5 carat diamonds and 162 small diamonds. It transforms into a beautiful necklace by manipulating the crown to match the lifestyle of today's multifunctional lifestyles.
————————————————————————
What are some important things to note before buying jewellery that has potential to increase in value?
High quality of materials, exquisite workmanship and intricate designs are important things to look out for. These time-honored basics will characterize treasured jewellery which, in time, might become heirloom pieces and escalate in 'collectors' value too.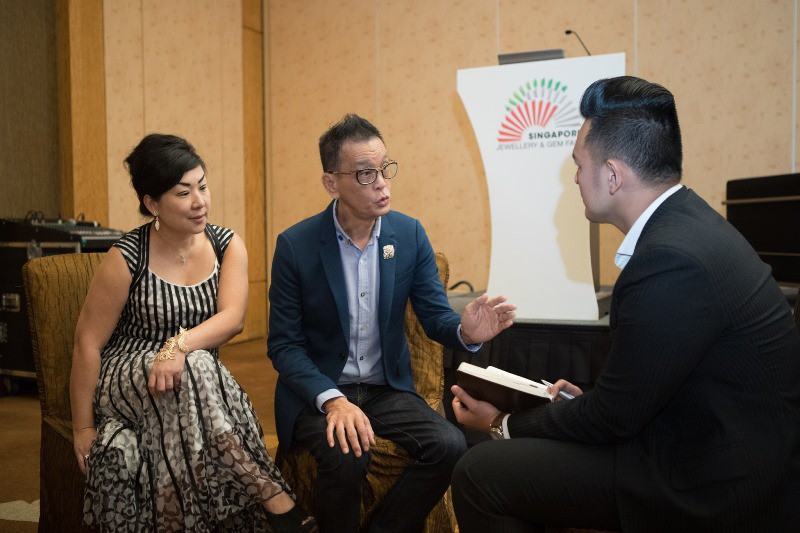 What is your prediction on the future trends of Peranakan jewellery?
As our Government is actively promoting a more gracious society, heightened emphasis on the arts and culture, we foresee that the younger generations will come to appreciate 'handmade' and 'Singapore-made'. Designs of Peranakan jewellery will also evolve to embrace the essence of traditional elements with a modern presentation or interpretation to keep up with the trends. Foundation Jewellers is committed to preserve the tradition of handcrafted Peranakan jewellery to perpetuate the culture and rich heritage of this unique art form.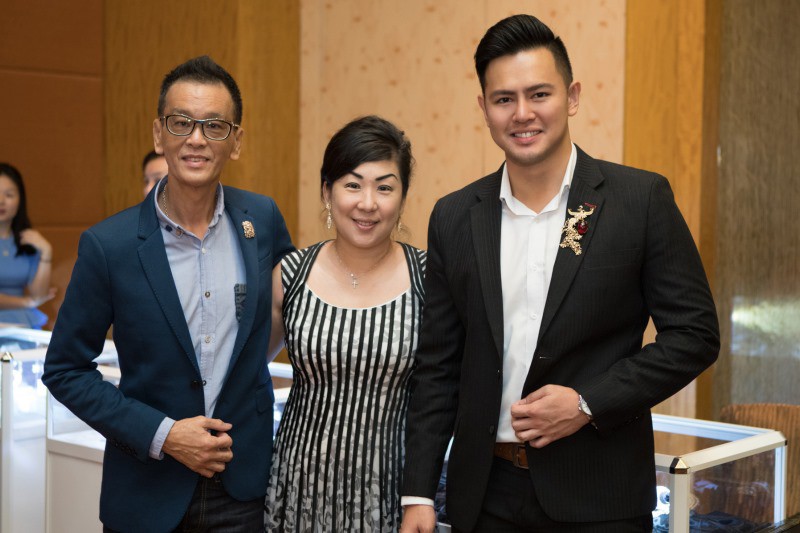 Thomis Kwan and Herbert Rafael wearing Foundation Jewellers' beautifully crafted brooches, with Mrs Carol Kwan (center)