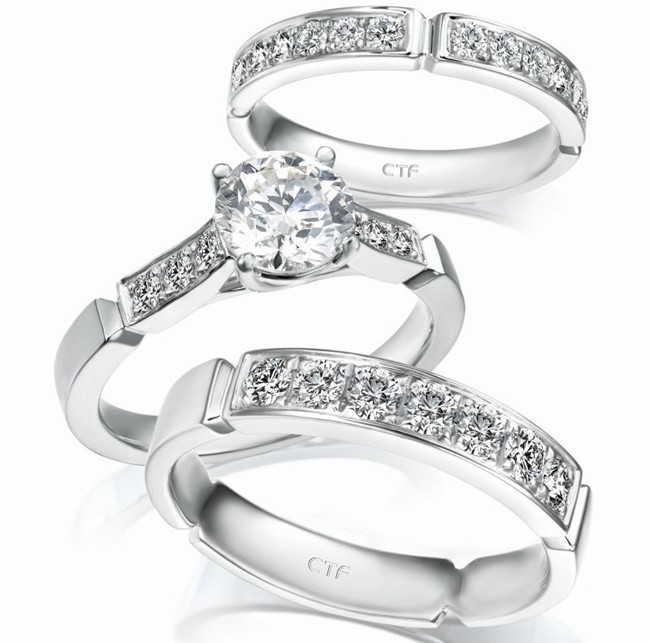 Chow Tai Fook honors love and beauty with the launch of its new Bridal Collection. Composed of the "Soul‧Love Collection" and a pure gold rose set, the Bridal Collection is both a symbol and a promise of love's constancy. The "Soul‧Love Collection" is a selection of engagement and wedding bands exquisitely crafted in PT950 Platinum and 18K Rose Gold. Inspired by the concave-convexity of keys, the collection evokes the image of lovers' fingers locked together when they first hold hands, and again later when their hands are clasped in marriage. The "Soul‧Love Collection" captures that unforgettable moment when love first sparks, and turns those feelings into a declaration of eternal love.
Several facets of love are captured in the "Soul‧Love Collection". The bright lustre of the PT950 platinum rings, which are made from one of the rarest and most valuable metals in the world, is reminiscent of freshly-fallen snow and thus symbolises the purity of love. Rose gold's warm tones echo the warmth of true love, and round-cut diamonds blaze in their settings as reminders of everlasting love. The rings' sleek curves not only amplify the diamonds' brilliance, but also present a modern and understated elegance by exhibiting Chow Tai Fook's impeccable craftsmanship.
Chow Tai Fook has also released a pure gold rose set for the bride on her special day. Comprising a bracelet, ring and a pair of earrings, these pieces are perfect for a bride not just because roses are a traditional symbol of love, but also because roses embody a woman whose beauty is in full bloom. Each delicate petal is carefully shaped in pure gold, their tender edges off-set by two perfect pearls. Whether encircling her dainty wrist, perched elegantly on a finger or nestled on her ears, these gorgeous pure gold pieces will enhance a bride's natural radiance.