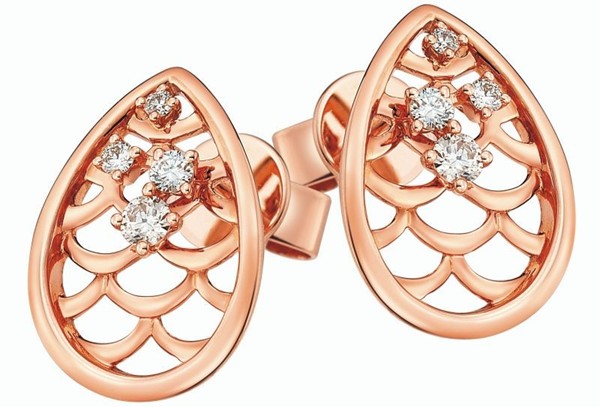 As Singapore gears up to celebrate its 50th birthday, Chow Tai Fook, the world's largest pure-play jeweller, joins in the commemorative occasion of Singapore's Golden Jubilee. To celebrate this major milestone in the island nation's history, Chow Tai Fook presents its Singapore 50th Anniversary Limited Edition Collection to mark the occasion. Iconic symbols of Singapore are carefully composed and beautifully incorporated into the design of the collection. The Singapore 50th Anniversary Limited Edition Collection constitutes of gold diamond necklaces, earrings and pendants.
One of the highlights includes a pair of 18K Rose Gold Diamond Earrings, inspired by Singapore's historic landmark – the Merlion statue by Marina Bay. The earrings feature a symbolic geometric scale-like design, similar to the texture of the Merlion's tail. Sparkling diamonds are delicately encrusted over the surface for maximum shine, which glamourises the warm rose gold earrings accompanied by a matching pendant.
Chow Tai Fook pays tribute to Singapore's 50 years of independence by taking elements from the Singapore flag and incorporating it into an 18K Rose Gold Diamond Necklace with a pair of matching earrings. The necklace takes the shape of the crescent moon with diamonds pavé-set in geometric triangular shape, reflecting the significance of the symbols of the moon and stars on the national flag. The faceted radiance of the diamonds provides an interesting contrast against the smooth and refined finish of the 18K Rose Gold Necklace, making the piece alluringly sophisticated. The subtle golden tones of rose gold add warmth to the pieces, further bringing out the sparkle of the diamonds.
To reflect the beautiful city that Singapore is today, Chow Tai Fook's Singapore 50th Anniversary Limited Edition Collection carries an 18K Rose Gold Diamond Necklace features a contemporary design, making it decidedly modern and artistic in its appeal. The necklace is inspired from one of Singapore's iconic landmark – ION Orchard, which is extremely popular among both locals and tourists. The necklace models after the architectural and stylish triangular façade of ION Orchard, with its warm golden tones bringing out the sparkle and intense brilliance of the diamonds pavé-set onto the angular surface edges of the necklace. This auspiciously coincides with Chow Tai Fook's official opening of its ION Orchard store earlier this year, and ties in timely with the commemoration of Singapore's Golden Jubilee.