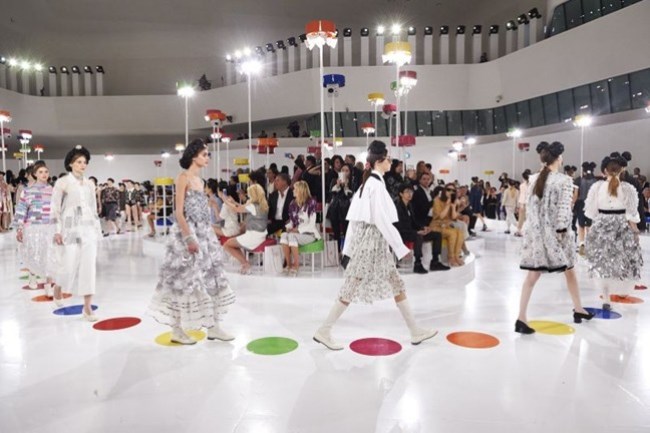 Karl Lagerfeld recently presented the Chanel 2015/16 Cruise collection at the Dongdaemun Design Plaza inSeoul, South Korea. The designer unveiled a collection full of energy with a structured and avant-gardist silhouette. The collection featured an explosion of bright colors, fuchsia pink, coral and intense orange, violet, celadon and mint green, turquoise and royal blue melt into woven tweeds, textured cotton, broderie anglaise and patent leather, but also into lighter and more diaphanous fabrics such as shantung – a type of raw silk so dear to Mademoiselle Chanel – linen, organza, tulle and lace. Geometric and ethereal patchworks as well as multi-colored stripes were combined with delicate floral and geometric marquetry-style embroideries produced by Lesage, Lemarié and Montex.
Drawing inspiration from the traditional dress of the Korean peninsula, the hanbok, Karl Lagerfeld imagines jackets with large sleeves and rounded shoulders. Their collars, flat, folded or notched, disappear as if by magic revealing the neck and sketching out a new look. The trousers are cut wide and short or tightened at the hem, while skirts are pencil or straight cut just below the knee. For evening, dresses with very high waistlines are light and voluminous. The strapless dresses introduce a new nocturnal elegance and are emphasised by a broad stroke in velvet or grosgrain.
Necklaces in golden or colored metal links, baroque pendants and cuffs in tangy colours accessorise the silhouettes of these baby dolls with their lips painted pop pink. Everyone wears square-toe pumps or Mary-Janes in patent leather with integrated socks. The iconic handbag of the House is revisited in multi-colored tweed or embroidered entirely with sequins, and mingles with clutches and minaudières. A graphic version of the camellia appears on button holes, in the hair and as a brooch.
For evening-wear, blouses and dresses are richly embroidered. Peter Pan collars alternate with strapless dresses and outline a new nocturnal elegance. The waistline is worn very high, above the bust, and highlighted by a broad stroke of ribbon in velvet or grosgrain. Light overdresses reveal shimmering embroidery. In a final evocation of Korean traditions, three voluminous silhouettes concluded the show.