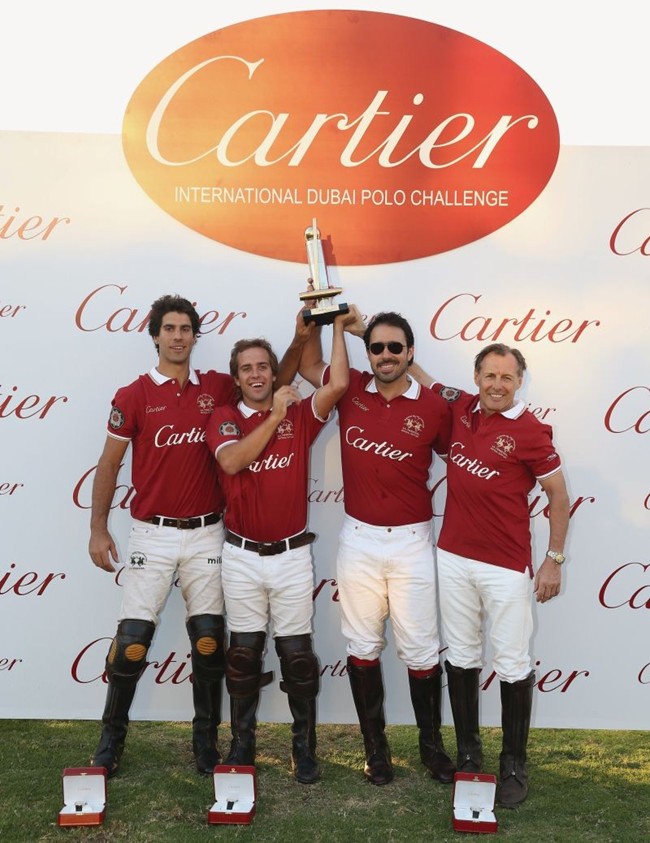 The Cartier International Dubai Polo Challenge 2014, recently concluded late this February, with Cartier's very own team taking home the winning trophy. Cartier played against the team from CNN in a thrilling final with a final score of 11.5 – 7. The winning team's patrons, Saeed Bin Drai and Adriano Agosti, received the trophy and winners' prizes from HH Sheikh Mansour bin Mohammed Bin Rashid Al Maktoum – who was attending the event on behalf of the tournament's patron, HRH Princess Haya Bint Al Hussein.
In addition to winning awarding prizes to the winning team, HH Sheikh Mansour also presented Cartier's Raul Laplacette with the La Martina Most Valuable Player Award. The Cartier International Dubai Polo Challenge 2014, which is now on its 9th year, saw four professional/amateur 14-goal teams competing in superb displays of fast paced and excited polo. The polo was managed by the core team from Guards Polo Club in the UK, while La Martina retained its Official Team Kit Supplier status, ensuring that players and ponies were as elegant as the game.
By the day's end, HH Sheikh Mansour placed the La Martina Best Playing Pony Rug on Saeed Bin Drai's Cata, a seven-year-old mare which had been played by Laplacette in the final.