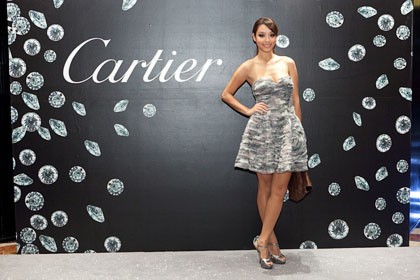 The Cartier bellboys were out in force at Marina Bay Sands Singapore recently, welcoming the storied brand's guests at the Thousand Facets of Diamonds dinner recently. Truly, this event was so spectacular that Cartier held it over two days.
With guests arriving from Singapore, Malaysia, Thailand, Indonesia and other countries in Southeast Asia, Cartier pulled out all the stops to celebrate its high jewelry diamond collection.
The evening opened with a theatrical flourish, with guests ferried to The Shoppes at Marina Bay Sands in Cartier limousines. The first act continued with a buggy service through the shopping complex right up to the private elevator that led to the actual venue for the party.
Similarly, the rest of the evening at Guy Savoy was a first class act. Confident of its panache, Cartier evoked the spirit of Grace Kelly, Maria Felix and the Duchess of Windsor – all clients of the Parisian house – as it unveiled the high jewelry diamonds in three themed parts: Romance, Passion and Celebration.
Each part showcased appropriate jewelry creations, starring in scenes that reflected the themes. Long after the Marriage of Figaro-style conclusion, guests continued with their own production of a wonderful evening.