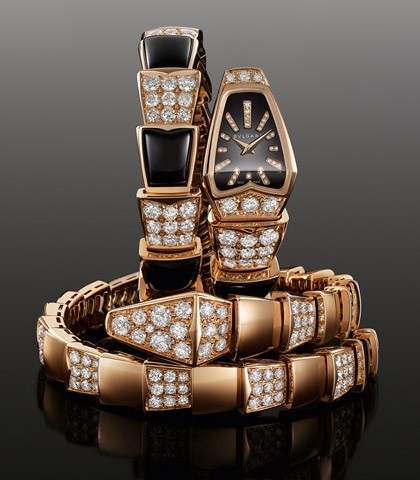 Sinewy and dynamic, the Serpenti Collection from Italian luxury goods brand Bulgari reveals a design evolution rooted in the brand's heritage. In fact, Bulgari was the first brand to bring the serpent motif to watchmaking with the Tubogas watch, which was arguably the design that pushed the brand forward as a watchmaker.
Today, the success of this design is being tested again with the current collection. Again, the flexible nature of the design makes it a good fit, literally, for virtually anyone. Bracelets and rings are composed of a series of meticulously crafted components that simulate the scales of a snake. What makes it work – and holds it together – are invisible gold hinges.
As you can see, not all models feature only precious metals. The range includes items with scales of onyx, pink coral, mother-of-pearl and the very unusual lavender jade, while fully-set diamond pieces round things out. The collection includes watches, bracelets and rings.