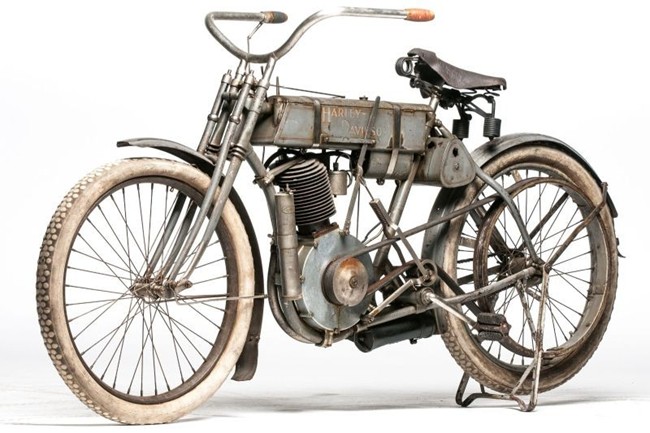 A 1907 Harley-Davidson Strap Tank recently sold for US$650,000 during a sale held by Mecum Auctions. These earliest Harley-Davidson 'strap tank' models are the rarest and most coveted of all Milwaukeemachinery, and this 1907 model is one of the first 207 built, including the prototypes. The serial number (#2037) suggests it is the 37th Harley-Davidson built in 1907, making it the company's 94th machine ever built, including the two prototypes. This machine, #2037, is widely considered the best unrestored 'strap tank' Harley in the world and was purchased from the Leo Bongers estate auction in David City, Nebraska, in January 1993.
The three Davidson brothers, plus William Harley, weren't bicycle racing champs or trained engineers like their competitors in the pioneering days of motorcycling. But they knew a good idea when they saw it, and set about building a motorcycle in 1901, which they finished in 1903, a single-cylinder of 116cc. This first prototype lacked power, so they enlarged the engine size to 24.74 cu-in. (405cc) for their next model, and with a little advice from Ole Evinrude, the bike would climb hills without 'light pedal assistance,' establishing a pattern which served them well for the next century – build it stronger, and build it bigger. Their second prototype adapted the Merkel purpose-built motorcycle frame rather than their first bicycle frame, and this second machine was finished in 1904, and competed in a race on September 8th of that year in Milwaukee – the first recorded appearance of a Harley-Davidson.
In 1905, the budding factory in a small Milwaukee shed built five machines, and began advertising engines for sale in The Automobile and The Cycle Trade Journal. The engines were enlarged to 26.84 cu-in. (440cc), and produced about 4hp. By 1906 a new factory was built on Chestnut Street (renamed Juneau Ave. and still Harley-Davidson headquarters), and about 50 bikes were built. These first models are known as the 'strap tank,' for the nickel-plated steel bands suspending the fuel and oil tanks from the frame. In 1907, Harley-Davidson built 150 machines and displayed a V-twin prototype that February at the Chicago Automobile Show – the future was clear. Harley-Davidson were one of around 150 motorcycle manufacturers at that date, and by 1908 the company's production leaped to 1,149 machines.