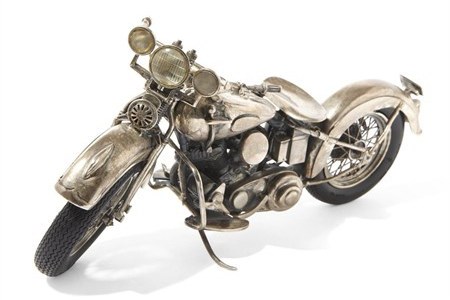 Here's a last minute gift idea for your Harley Rider best friend: an exquisite silver model bike by Cartier, perfect for displaying on his or her mantelpiece.
Sourced by GiftLab, a luxury online shopping site chockfull of carefully curated antique pieces, this sterling silver beauty is a Cartier recreation of a Harley-Davidson bike, and comes complete with rugged rubber wheels.
At 24.5cm X 15cm X 7cm, the true-to-scale model has a listed price of £5,580.00…and is unfortunately sold out at the moment. Keep refreshing the page to see if new stock comes in time for the holidays, but for now, here are a few pictures of the bike to whet your appetite.