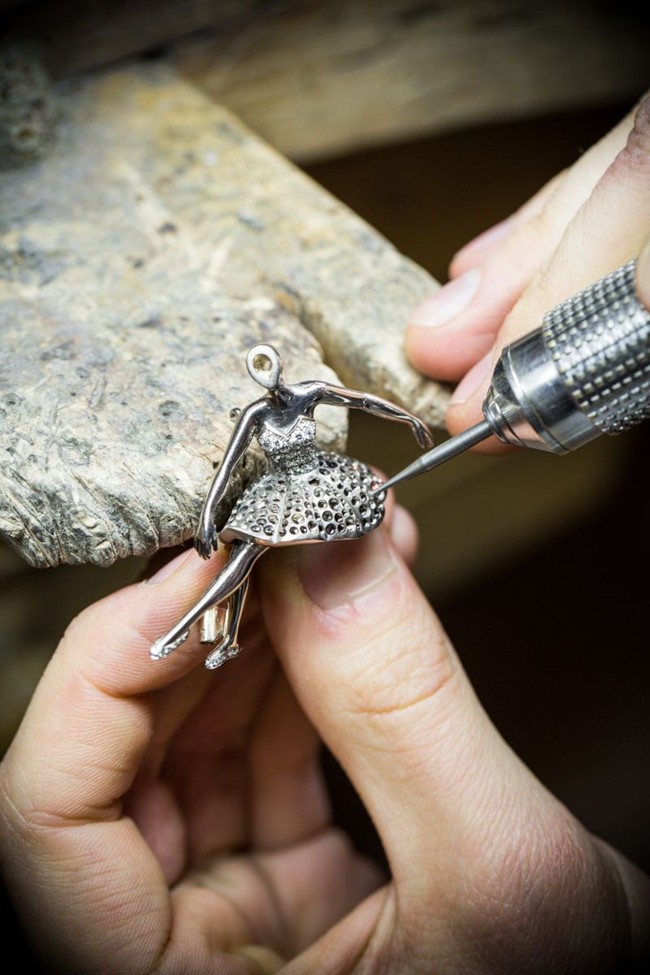 Van Cleef & Arpels lifts the curtains on its latest creations – bejeweled clips that capture the grace and savoir-faire of the art of ballet. The new high jewelry pieces created by the Parisian Maison, share a motif that has twirled through the history of Van Cleef & Arpels. The two 'ballerine' clips that are shaped liked ballerinas, capture the elegance of dancers through meticulous craftsmanship, bringing to life the Place Vendôme jeweler's spirit of poetic beauty.
One of the clips pays homage to the ballerina dancing en pointe, the delicate white silhouette evoking lightness and agility. A rose-cut diamond depicts her visage, while a headband of blue sapphires alludes to the headdress often worn by Van Cleef & Arpels' feminine figures since the 1940s. The clip features white gold, round, pear-shaped diamonds, round sapphires and a rose-cut diamond face.
The other clip celebrates the elegance of a dancer in fluid movement. White gold is meticulously sculpted to represent a delicate fondu movement, during which the ballerina's body is gracefully lowered by bending her legs. A single rose-cut diamond is delicately set to portray the dancer's face, which is sharply contrasted by a headdress of baguette-cut black spinels.
Van Cleef & Arpels has long turned to dance as a source of inspiration. The Maison's first 'ballerine' clips were created in the 1940s in New York at the prompting of Louis Arpels – a ballet and opera lover. Caught in a variety of poses, the clips showcased feminine silhouettes gracefully attired in sparkling costumes made of diamonds and precious stones.