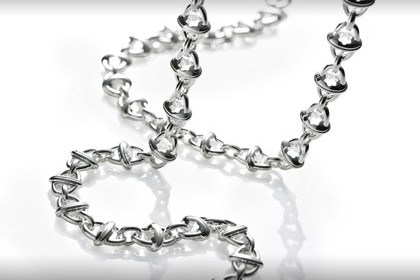 Following the release of the Montblanc Star Collection in 2007, a new range featuring bracelets and necklaces in various sizes is the latest addition to the series. "The Icon" range of solid 925 sterling silver jewelry centers on the legendary Montblanc trademark, the Montblanc star.
The star is a recurring motif, and central theme in this collection. Each chain link in this jewelry range is made up of three different sized rings, positioned at right angles to each other. The largest oval ring features the Montblanc star logo discreetly cut into the ring, creating a 'hollowed' frame of the star.
"The Icon" series comes in two versions. Small, thin links and motif elements create an aura of subtle and simplistic elegance, while the larger, chunkier version is bold, edgy and eye-catching.