Terry Richardson with supermodel Kate Moss / Image: Terry's Diary
While he may be one of the top fashion photographers in the world, rumors of Terry Richardson's alleged sexual misconduct on set with models has been a source of controversy on blogs for quite sometime. Fashionista has reported about this back in 2010 and then again this year when a woman on Reddit told an alleged account of a very graphic incident on set in 2009. Through it all, Richardson has been silent on all the articles written. Until now.
The American photographer who has worked with Mango, H&M, Vogue, Harper's Bazaar and countless other major fashion brands and publications, posted an open letter to Huffington Post earlier today. Richardson starts off by explaining why he chose to ignore the controversy up until now: "Four years ago, I chose to primarily ignore a cycle of Internet gossip and false accusations against me. At that time, I felt that to dignify them with a response was a betrayal of my work and my character. When these allegations resurfaced over the past few months, they seemed especially vicious and distorted, moving outside the realm of critical dialogue and becoming nothing more than an emotionally-charged witch hunt."
As for all the articles detailing the alleged sexual encounters he writes, "[the] on-going quest for controversy-generated page views, sloppy journalism fueled by sensationalized, malicious, and manipulative recountings of this work has given rise to angry Internet crusades."
He goes on to compare his work to the likes of Helmut Newton and Robert Mapplethorpe, both heralded for their use of the naked form in their images. "[Sexual] imagery has always been a part of my photography. Ten years ago, in 2004, I presented some of this work at a gallery show in New York City, accompanied by a book of the photos. The show was very popular and highly praised. The images depicted sexual situations and explored the beauty, rawness, and humor that sexuality entails." He reiterates that all models photographed knew the type of imagery involved, "I collaborated with consenting adult women who were fully aware of the nature of the work, and as is typical with any project, everyone signed releases."
You can view the full open letter on HuffingtonPost.com. Let us know what you think below.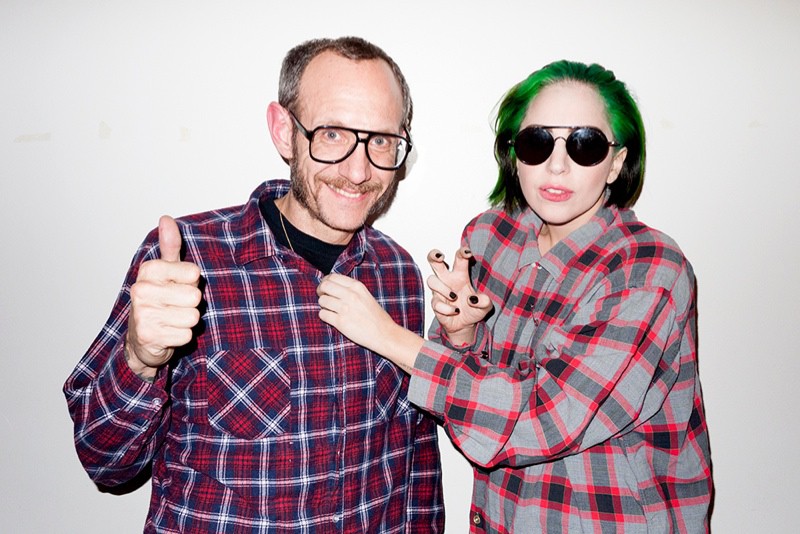 Terry Richardson with Lady Gaga / Image: Terry's Diary