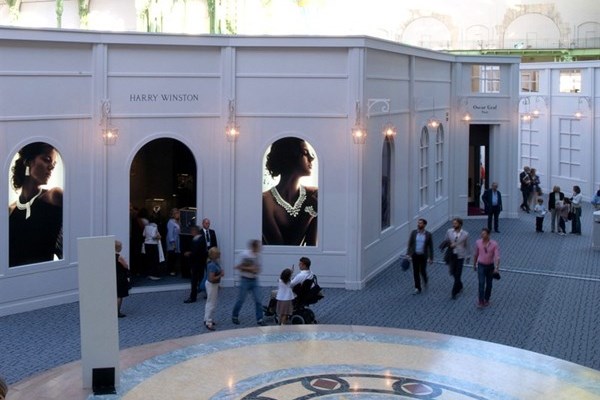 The Harry Winston booth at the 26th Biennale des Antiquaires in 2012, Paris
The world's largest watchmaking conglomerate the Swatch Group issued a press release announcing its purchase of the Harry Winston watch and jewelry brand for USD750 million in cash. The purchase does not include the mining activities of the Harry Winston Diamond Corporation, now called Dominion Diamond Corporation. US-based HW Holding Inc, which owned Harry Winston Inc, had been seeking a buyer for its watch and jewelry business for some time now so this sale is not unexpected. The Swatch Group acquisition includes some USD250 million net of pro forma debt.
"The Harry Winston brand now has a new home that can provide the skills and support that it deserves to realize its true potential," said Robert A. Gannicott,  Chairman of the Board and Chief Executive Officer of Harry Winston Diamond Corporation.
"Harry Winston does brilliantly complement the prestige segment of the Group. We are proud and happy to welcome Harry Winston to the Swatch Group family – diamonds are still a girl's best friend," said Nayla Hayek, Chairwoman of The Swatch Group Ltd.
The sale must still be approved by various regulatory authorities. Bloomberg reports that the diamond trade was twice as profitable as retail jewelry in 2012, thus explaining this turn of business events. The report further states that Harry Winston is interested in purchasing Rio Tinto's 60% stake in the Diavik diamond in Canada. Harry Winston already owns the remaining 40% of that mine. Luckily for us all, the Harry Winston watch and jewelry name will stay alive.