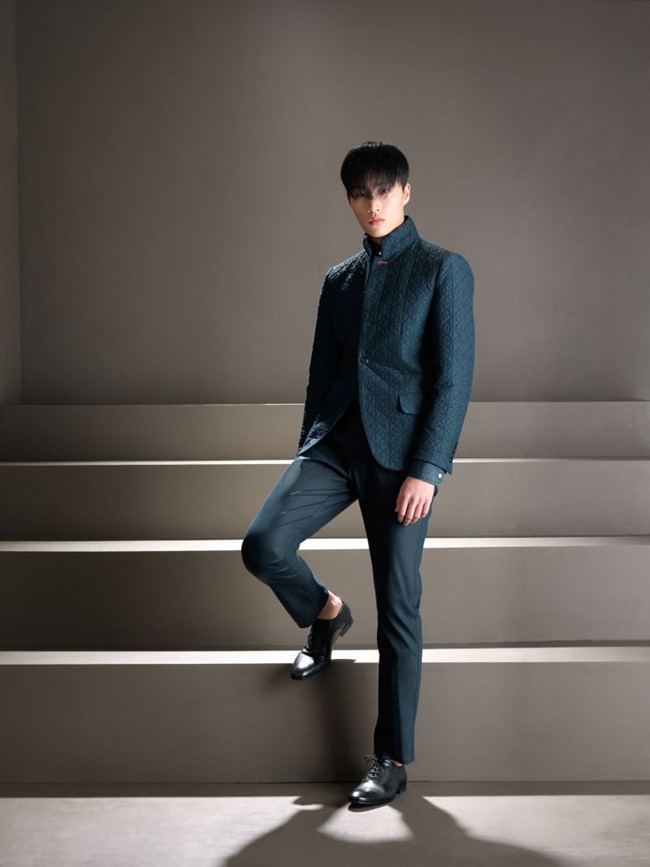 Shanghai Tang's Autumn Winter 2015 Collection redefines and sways from the convention of men's dressing – the new season is versatile, and emphasises on wearing a coat as a jacket. The autumn looks transition from boardroom to party seamlessly, offering an endless array of mix-and-match options. Classic suiting is reinterpreted in soft jerseys, blurring the lines between corporate and party.
The dapper meets the freethinker. Oriental lattice patterns are embedded into geometric quilting and padded jackets; along with leather patches and dashes of color that express Shanghai Tang's Menswear modernity and on-the-go attitude. Urban silhouettes with utilitarian materials define the look of youthful sophistication. Relaxed fit outerwear in nylon embodies an athletic and modern attitude. Signature intarsia sweaters with striking ombré shirts complete the look with a graphic and artistic edge.
The sheen of velvet exudes an air of taste and poise. Subtle, yet extravagant printed shirts are injected into refined evening jewel tones for the surge of glamour and sartorial charm.
This Autumn Winter, Shanghai Tang has designed leather goods for all walks of life, from a duffel bag for the weekend trip, to a clutch for the nightlife. Form and function goes hand in hand with these essentials. Small leather goods reflect the character of the Shanghai Tang man. Versatile taupe and navy leather is energized with flashes of brilliant orange and ultramarine blue. Each piece offers an added level of functionality for everyday use.