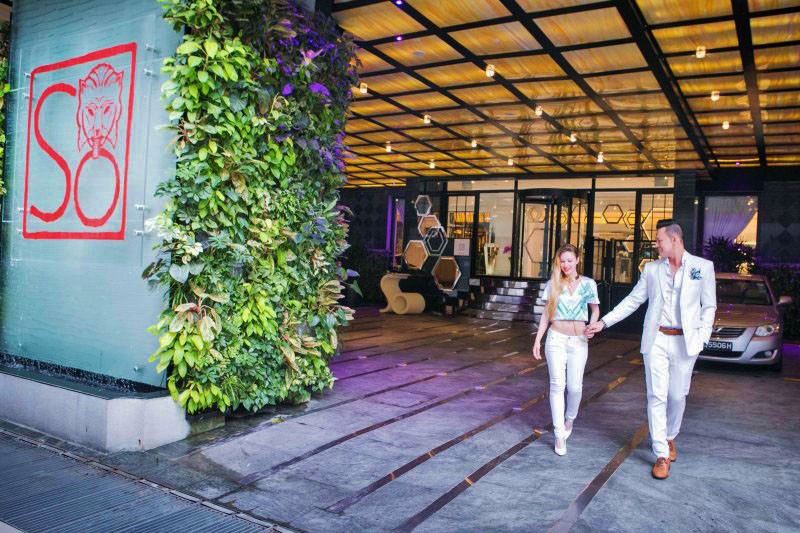 Sofitel so is synonymous with romance, glamour and style – with hotels in some of the world's most exciting cities, stunning facilities, world-class service and a unique combination of tradition, heritage, innovation and glamour offer guests a hotel stay unlike any other, whether on business or leisure.
Although located in the heart of Singapore's bustling business district, Sofitel So Singapore provides a luxurious escape from the city and is the latest iteration of a new concept of luxury urban boutique hotels created under the auspice of the venerable French luxury hotel group.
It's rooftop lounge is also one of Singapore's hidden hotspots where local celebs and Singapore's most stylish socialites rendezvous around a magical skyline. It's the ultimate hangout crib, home to the most delicious cocktails, with an infinity pool of sparkling lights, and the hippest beats.
Inspired contemporary design has artfully juxtaposed a newly built accommodation wing onto an elegantly restored 1920′s heritage building, evoking an intriguing and luxurious experience of glamour and indulgence. The intimately scaled hotel of just 134 rooms and suites exudes a boldly creative design aesthetic throughout the accommodations and public spaces – superbly supplemented with the especially commissioned design inputs of legendary fashion designer Karl Lagerfeld – expressed in the form of the hotel's signature "The Lion's Seal" emblem, staff uniforms, and his petite La Bibliotek corner of personally curated books, located adjacent to the Xperience Bar.
Boasting a chic interior, each suite is spacious with no expense spared. Furnished with the finest selection of amenities from pillow cases to bath soups, you'll have a truly indulging experience with it's super king-sized beds, floor-to-ceiling windows that open out onto a cozy veranda or private balcony to enjoy a glass of champagne after soaking up luxury from the suites pampering in room spa bath amenities.
A defining element of the new Sofitel So boutique hotel concept is the creation of surprising and innovative dining and drinking experiences as an essential feature of the contemporary urban lifestyle of a discerning and cosmopolitan clientele. Occupying the street level entry space of the heritage wing of Sofitel So Singapore, the signature Xperience Restaurant entices guests with new dimensions of gourmet international cuisine, while adjacent across the lobby, the Xperience Bar offers consummate cocktail creations – many specifically designed to complement the restaurant cuisine. The elegant restaurant decor suggests a comfortable residential demeanor of contemporary sophistication – split into two main spaces and anchored by the impressive black and gold Molteni oven – custom-built in France. Alongside, twin luxurious turquoise sofa "beds" offer a unique interpretation of the classic chef's table experience.
Don't be surprised if you spot a Hollywood actor, local celebrity or fashion pack member or two, this place is a hit with all of them.
Lensed by Victor Yaw, Vanessa Emily sports a crop top from Tex Saverio SS15 Collection, with choker from Laruicci, both available at Gnossem. Bodycon nude dress from Torn by Ronny Kobo. Herbert Rafael wears custom suit from Tom Ford, Hublot 'Big Bang' watch.
(Photos: Sofitel So & WTFSG)