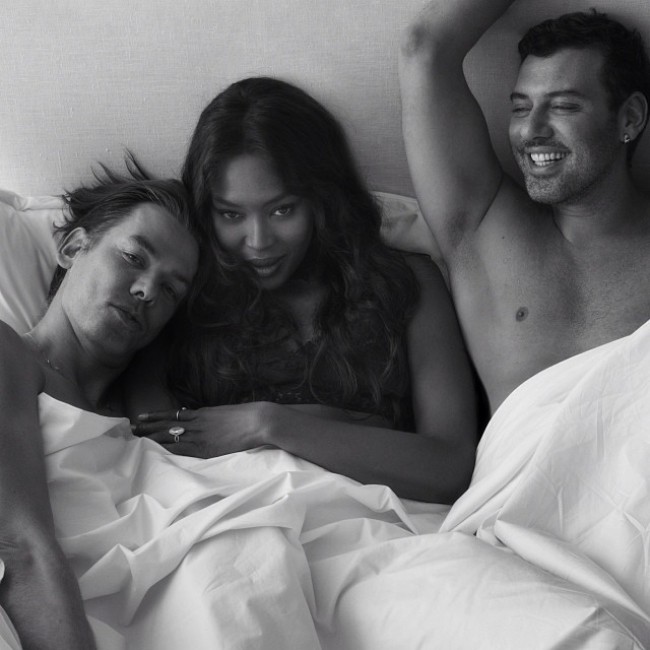 Naomi Campbell pictured with Mert & Marcus / Courtesy of Instagram
Supermodel Naomi Campbell recently stopped by "The Breakfast" Club, a New York-based radio station where its host Charlemagne is known for not holding back when it comes to his interview questions. There to promote season 2 of her modeling competition series "The Face", Naomi opened up about who she thinks are the top models today, whether she ever starved for the job and plastic surgery.
On whether 90s supermodels starved themselves:
"You know, I have Jamaican-Chinese heritage. I love my food.  And no, I've never- you know I came [in the industry] with group of ladies. Linda, Cindy, Christy, Tatjana, Stephanie, and that just was not [it]. We were friends, we loved each other and we loved to go eat with each other. That was not a part of that era."
On the crop of models now:
"I think everything has to evolve, it's a business and times change. And I think that, I will say this- you will never get six or seven of us together like we were. That won't ever happen. You've got Gisele, you got Joan Smalls, you got Jourdan Dunn and you've got these beautiful girls like Riley Montana that are coming up. And I support all of the young black models today. And that's why Bethany and myself have been doing and speaking up for balance diversity in the business."
On young girls feeling pressured to get surgery for modeling:
Listen, I have a scar. I had a scar on my upper right lip since I was three years old. And I mean, when I first came to New York, my agent said to me at the time we have to get that done and my mother said 'No.' And I've never had it done. And makeup will cover it and that's the way it is. I think if you want to get plastic surgery for yourself personally, that's up to you and do whatever makes you feel good. But to do it for a job? No.
I personally don't want to go under the knife unless I really need to or unless it's like some surgical emergency. But that's just my opinion.