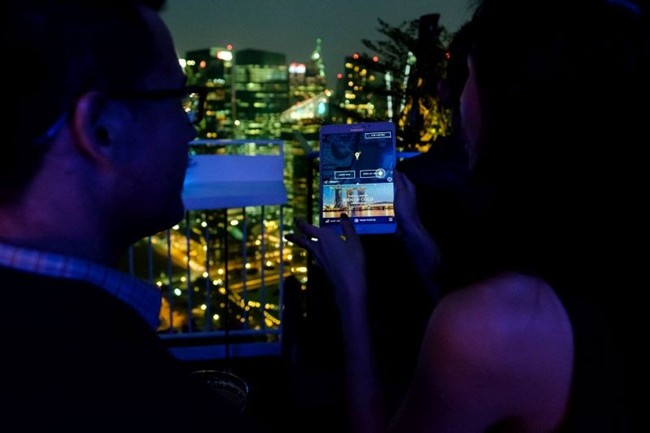 Contemporary art takes over the Singapore skyline from October 22 with the Martell AiR Gallery, a mobile application created by cognac house Martell to celebrate its 300th anniversary in Singapore and the nation's Golden Jubilee. Through the mobile app, Singapore's first augmented reality contemporary art exhibition will be presented against the dramatic backdrop of the Singapore skyline. Curated by Martell's 300th anniversary ambassador in Singapore Kelley Cheng, the Martell AiR Gallery features the exhibition titled  Zoe – The Art of the Alchemist, which showcases 15 new works by 15 local artists.
The artworks will be exhibited against iconic Singapore landmarks around the Marina Bay area and can only be experienced exclusively through Martell AiR Gallery app. The app can be downloaded on mobile devices, allowing the public to freely access, view and interact with the artworks on exhibition at their own leisure. The Martell AiR Gallery will also become the platform that serves as a permanent open-air gallery, offering an innovative and cutting-edge approach to experience and appreciate art in Singapore.
Martell AiR Gallery is available for free download on iTunes and Google Play Store now. The app will display the locations of the 15 artworks, which will be exhibited around the Marina Bay area. Using geo-tagging technology, viewers will be prompted to point their mobile devices at specific locations where the artworks can be accessed through the app. The app will allow viewers to engage with both still and moving images which will be given a dramatic dimension as they will be virtually installed against Singapore landmarks. For example, there will be an artwork suspended in the air over the Marina Bay Sands Sky Park as well as an artwork on the surface of the waters of Marina Bay.
"To commemorate this momentous year for both Singapore and the House of Martell, we are proud to present the Martell AiR Gallery as a gift to the nation. Martell AiR Gallery signifies Martell's commitment to innovation, creativity and support for the arts in Singapore. Through this, we hope to inspire future generations to pursue excellence, independence and creativity," says Gaurav Sabharwal, Managing Director, Pernod Ricard Singapore.