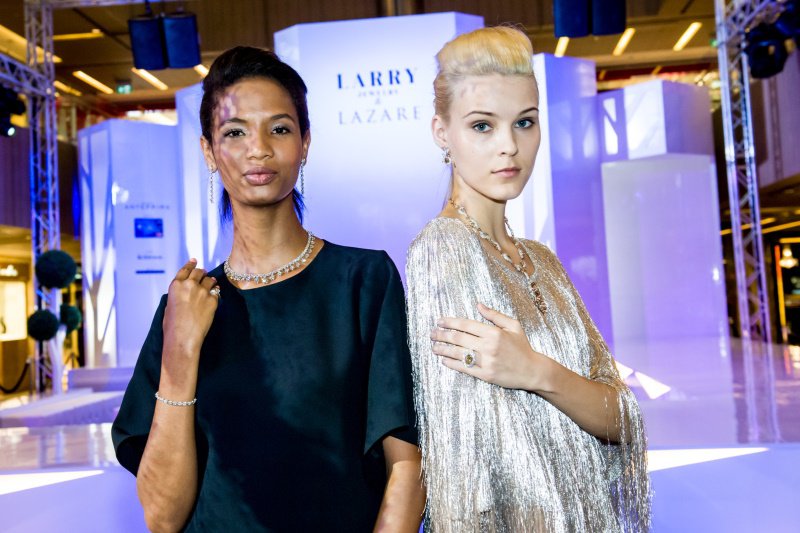 Larry Jewelry recently celebrated Lazare Kaplan's 110 years of excellence with a fashion extravaganza at the Paragon Annual Spring Summer 2014 Fashion Week in Singapore.
The event that showcased Lazare Diamonds® Collections, opened with a gorgeous award-winning necklace bearing 135 ideal-cut Lazare Diamonds® with a total weight of 63.10 carats. Designed and crafted for Lazare Kaplan's 110th anniversary, the necklace is not only a masterpiece, but an epitome of success and beauty.
More than 100 VIPs and guests enjoyed the fashionable cocktail party which served a steady flow of canapés and fine champagne. It was a treat to watch the elegantly styled models sashay down the runway accentuating the allure and beauty of Lazare Diamonds®.
"It was gratifying to see how many retailers and other manufacturers walked by the booth and had to stop to look at, and of course vote, for this stunning necklace…The recognition of being the buyer's choice award winner for the best Platinum Red Carpet Jewelry confirms that we did indeed create a piece that captures the essence of our 110 years: classic, timeless and unique." said Lazare Kaplan International's Vice President, Marcee Feinberg.
Larry Jewelry is the sole distributor of Lazare Diamonds® in Singapore and Indonesia and the Lazare Diamonds® Collections is available exclusively in Singapore at Larry Jewelry boutiques.
(Photos courtesy of Larry Jewelry)