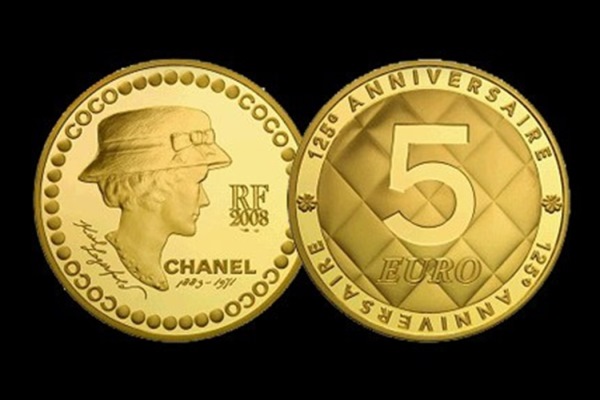 The Monnaie de Paris commissioned Karl Lagerfeld to design a series of gold and silver coins to commemorate the 125th anniversary of Gabrielle Chanel, founder of the Parisian couture House of Chanel.
First launched in December last year, the collector series come in four variations: two gold and two silver, and all will carry the same denomination of five euros, which evokes the brand's iconic Chanel No. 5 fragrance. Paris Mint intends to make 11,099 of these coins in total.
According to press statements from Monnaie de Paris, the first gold coin minted apparently contains five ounces of gold.
The coins feature a side profile of Gabrielle Chanel, or more fondly remembered as Coco Chanel, wearing one of her famous hats with a flat bow and pearl necklace while Chanel's signature "matelassé" quilting adorns the coin's reverse side.
Pearls also decorate the border of the coin, interspersed with the words "Coco", with Karl Lagerfeld's signature appearing just below Coco's profile.
These collector coins are exclusively available at the Paris Mint and priced upwards of 300 euros.