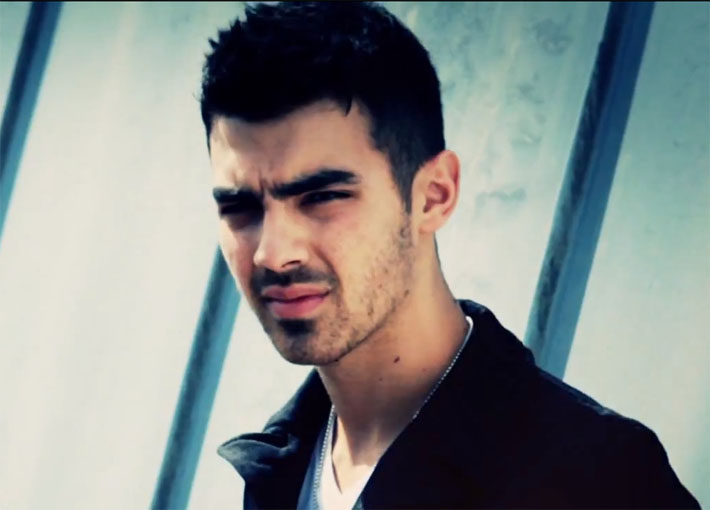 Clean-cut promise-ring-wearing Joe Jonas — raised by Evangelical Christian parents — has finally let his freak flag fly. Allegedly! Blind Gossip is reporting that his most recent creative effort drops April 3… and it's a very explicit sex tape. OMG i say!
What does explicit mean? It means lots of bedroom toys:
The video features explicit footage of Joe Jonas, 23, and his girlfriend, Blanda Eggenschwiler, 28, drinking, doing drugs, and engaging in sex using a number of sex toys and BDSM devices, including dildos, a gag ball, and a slapper paddle.
Blanda. Blanda!
Allegedly.
Okay, what else?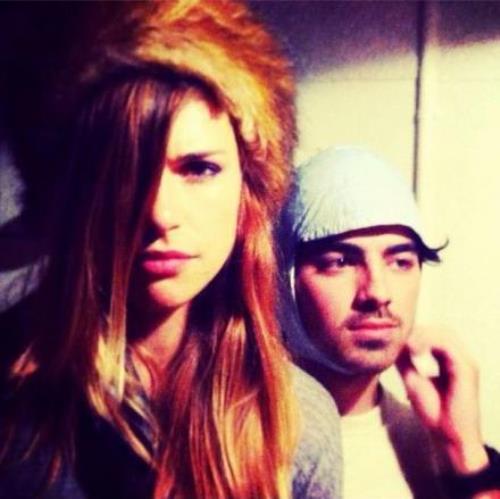 More photos of Blanda Eggenschwiler here.
The sex tape was made earlier this month in a room at Park Tower, a hotel in Buenos Aries, Argentina. Blanda, who describes herself as model from Switzerland, is traveling with the Jonas Brothers while they are on tour in South America.

At the beginning of the video, Joe and Blanda are sitting on the bed together. They are both drinking and smoking pot, and Blanda explains to Joe what she is going to do to him in detail.

They proceed to engage in multiple sex acts utilizing a variety of sex toys, including a large dildo, a gag ball, and a slapper paddle. Joe participates willingly, but seems less sure of how to use the sex toys, as well as how they will be used on him. He does not enjoy being paddled. At one point he has had enough and cries "Owww! Don't do that anymore!" Blanda is the more dominant one in the video. At one point she inserts the dildo inside of herself, orders Joe to "lick my p**** juice off of it," and he complies.
Hot.
Allegedly.
The nameless moles at Blind Gossip promise that this video features "a lot of overly dramatic screaming and moaning" as well as "multiple close-up shots of Joe's face, penis and testicles, as well as Blanda's face, breasts, and vagina." In other words, your Christmas shopping is done.
The darkest, saddest part of this whole story? Not the drugs or the dildo or the paddle. This:
Eggenschwiler has told friends that Jonas was merely a stepping stone for her, that she has no interest in staying with him once the tape is out, and that she hopes that the sex tape will launch her career "like Kim Kardashian." Eggenschwiler will deny her involvement in the distribution of the tape, and will express embarrassment about its release in the hopes of avoiding a backlash from Jonas supporters.
More, should you need it, can be found here.
UPDATED: We received the following email:
We represent Joe Jonas and would like to provide the following statement in response to the below false story: "There is no truth or validity to this story. It is completely false." – Joe Jonas' representative
[Blind Gossip]
Follow me, your Gossip Monger on Twitter here.