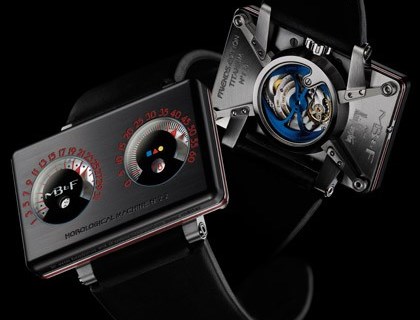 When horological visionary Max Busser, the M and B of MB&F told us about this watch, he began with a story about a watch he once noticed while passing a BMW Z1 on the Autobahn. That watch, which was so distinctive it caught his eye even at the limitless speeds of the German motorway, was designed by none other than Alain Silberstein.
Today, some 20 years later, Busser presents a horological machine he created with the old master, the Horological Machine No.2.2. A Bauhaus riff on the original Horological Machine No. 2, this black beauty offers plenty of surprises.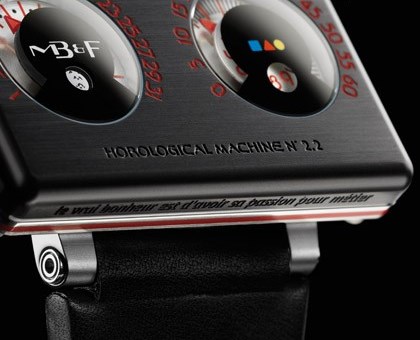 The case and dials, having been dreamed up by Silberstein, are provocative even as they undercut the colorful expectations of those who recognize Silberstein's touch. With a rich black achieved by a special DLC coating (with a spot of silicium), Silberstein manages to make the titanium case resistant to finger stains.
He also incorporates Superluminova into the indicators on the watch face, thus providing total legibility. In terms of functions, the left dial shows a retrograde date and moon phase while the right dial displays jumping hours and retrograde minutes.
It is noteworthy that this is the first time the jumping hour display has made it into a Horological Machine. The Horological Machine No. 2.2 is limited to just eight pieces worldwide.