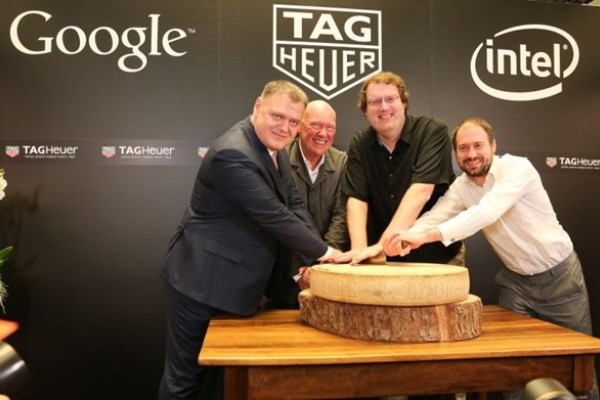 The watch-loving world was waiting for the Apple Watch for years but, happily, did not have a long wait for the traditional Swiss watchmaking response.
At BaselWorld 2015, TAG Heuer, Google and Intel announced a partnership to push out what else but a smartwatch. Details are thin but since all three companies got their big guns together (Jean-Claude Biver, President of the Watch Division LVMH Group and CEO of TAG Heuer, David Singleton, Director of Engineering for Android Wear, and Michael Bell, Corporate Vice President and General Manager of Intel's New Devices Group) onstage at the Swiss fair, something big is afoot.
A statement was released thereafter heralding the dawn of a new era of collaboration between "Silicon Valley and Watch Valley"; Watch Valley typically refers to the region in Switzerland stretching from Geneva to Basel where traditional and contemporary Swiss watchmaking is based.
We are mostly intrigued by the words of Singleton, which were released as part of the package of quotes from the event: "By fusing beauty with technology, the Swiss watch has inspired generations of artists and engineers alike — including us at Google. So we're thrilled to be working with TAG Heuer and Intel to bring a unique blend of emotion and innovation to the luxury market. Together, and using the Android Wear platform, we can imagine a better, beautiful, smarter watch."
The target is clearly the luxury segment of watch collectors and the goal is a beautiful product with a more integrated approach, probably, the new E-Strap effort from Montblanc. As you might expect, this has already sparked much speculation, including this rather interesting think-piece from The Verge. This interview with Bell on Venturebeat offers more insights into Intel's direction on this, including an affirmation of the Mac way… More updates are sure to come so stay tuned.