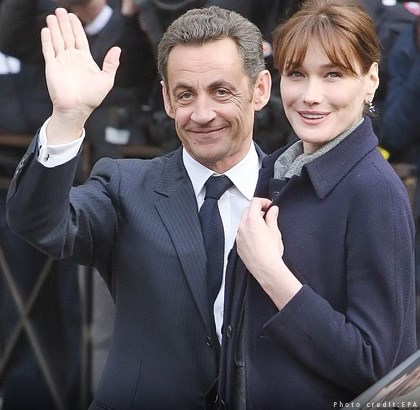 Though French President Nicolas Sarkozy has a fondness for private planes, it is one that is eclipsed by a greater affection for his wife, First Lady Carla Bruni.
Hence, his recent purchase of a £50 million Dassault Falcon 7X has been lovingly christened "Carla One" with the name emblazoned on its side.
No stranger to the good life, Sarkozy reportedly spent £240 million in the last year alone on keeping up his aviation hobby. His growing collection includes a massive Airbus A330-200 and two smaller models for frequent short-haul flights.
The "Carla One" in question is said to be relatively modestly decorated with plush designer furniture in the country colours of red, white and blue, but with no added ostentatious accessories.
Currently stored at the Villacoublay airbase near Paris, the plane is a fitting tribute to Sarkozy's supermodel-musician wife.
(Source: Dailymail)