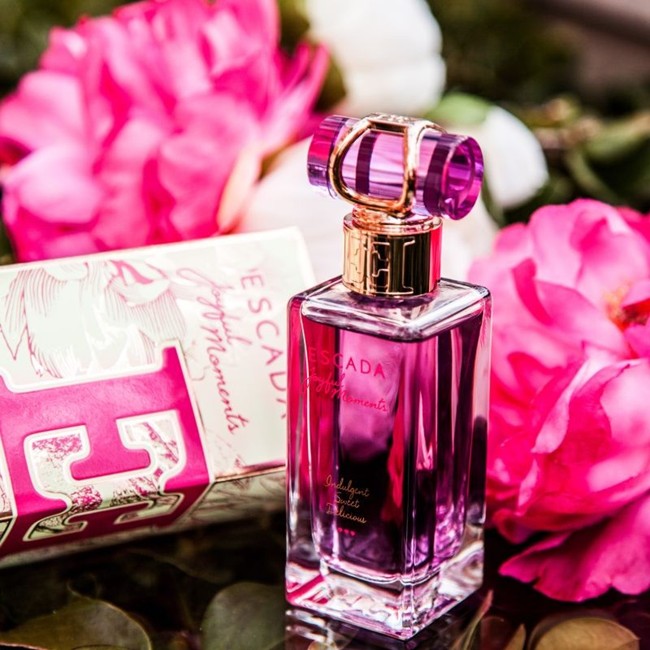 Recognize and savour indulgent moments of joy – simple pleasures that might often go unnoticed, but together make you appreciate the joy of being alive. Whether it's a moment of relaxation, discovering somewhere new or an unexpected encounter with an old friend, the new Escada Joyful Moments Limited Edition celebrates life's moments of indulgence and captures the sensation of joy in a bottle. Colorful and passionate, the fragrance is designed to turn each day into a sunny one full of joyful, indulgent moments. It encapsulates a positive outlook, enabling you to share the feeling of joy with those around you. With Escada Joyful Moments Limited Edition you can be the person who is open-minded and relishes the little everyday indulgences.
The fragrance bursts into life with fruity top notes, combining fresh and juicy blackcurrant sorbet, mouth-wateringly sweet lychee and zesty mandarin. The new addition of lychee in the fragrance adds a fresh tonality to the composition, whilst injecting a hint of fruitiness. Balanced by the watery green effect from violet leaves, a beautiful feminine bouquet blooms at the heart, enlightened by the sparkling juicy hints of lychee at the top. TheDamascus rose brings a bright and powerful floral note; partnered with delicate, clean notes of pink peony, which add a light vitality. At the base, honeycomb and vanilla add richness and comforting warmth to the jubilant floralcy, extending the feeling of joy.
Featuring the same feminine flacon design as Escada Joyful, the transparent bottle holds the vibrant pink juice. The iconic 'double E' logo, originally designed by Escada founder, Margaretha Ley, is embossed on the lid of the bottle, and a pink jewel sits atop the flacon, encased in a gold finish. The bright pastel green outer carton is beautifully decorated with a delicately drawn peony and lychees, perfectly capturing the soft and feminine floral nature of the fragrance.
Escada Joyful Moments Limited Edition Eau de Parfum 30ml – $86
Escada Joyful Moments Limited Edition  Eau de Parfum 50ml – $122