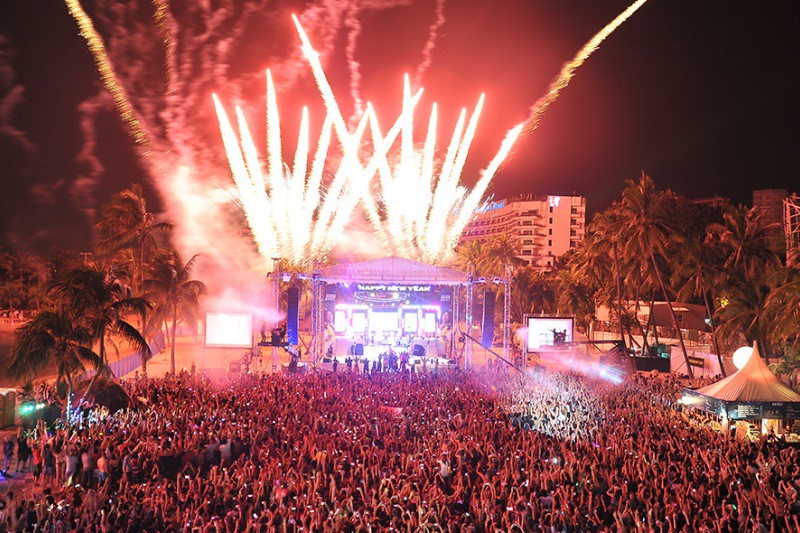 End your year on a neon-high by dancing to pump-up beats and counting down to the New Year on the beach with your friends. Headlined by DJ Don Diablo and complemented by a line-up of local and international DJs, the Siloso Beach Party is the countdown to be at as the years converge at the stroke of midnight.
Bringing 12 hours of unbridled revelry back to the island, Singapore's ultimate beach countdown party will have you grooving to rad tunes with your friends on the neon-bright Siloso shoreline and treating yourself to delightful bites from dusk to dawn. As the New Year culminates, raise your hands to a spectacular display of fireworks and New Years' Resolutions raining down on partygoers. The confetti of wishes, which will have been penned earlier in the evening upon registration, will make for a stunning shower of New Year's blessings, wishes and resolutions, marking renewed hope for the future.
Leading the neon-themed beach party is Dutch DJ and producer DJ Don Diablo, a regular and crowd favourite at festivals such as Tomorrowland and Ultra Music Festival as well as hotspots including Ministry Of Sound (London) and Pacha (Ibiza). Jumping a massive 52 places in DJ Mag's Top 100 DJ Poll this 2015, the #30 ranked DJ has been awarded this year's 'Highest Climber', and has collaborated with multiple artists including Tiesto, Example, Madonna and Ed Sheeran. With his own HEXAGON radio show currently aired in over 35 countries and holding a solid top 10 position in the iTunes podcast section every week, fans can look forward to dancing up a storm as the musical maestro works his magic on the decks with the new year unfolding on Siloso's sandy shores.
Also taking to the deck are local pioneers and fast-rising beat droppers such as DJ Funky T, DJ Ollie Des, DJ Inquisitive, DJ Charlotte, and 2015 Sentosa DJ Spin-Off winner, DJ Caden. These DJs mean Siloso Beach Party goers are in for non-stop music from 6pm to 6am, from deep house to trance, Top 40s to reggae.
———————————————-
Early-bird tickets: 1-30 November, $48 per person
Advance tickets: 1-26 December, $55 per person
Standard tickets: 27 – 31 December, $65 per person | VIP passes $98 per person
 Those holding VIP passes get priority entry into the party, access to the VIP tent and three complimentary drinks. MasterCard and Sentosa Islander holders get 15% off early-bird tickets and 10% off advance tickets.
———————————————-
BUNDLE DEALS
Early Bird Party of 5:  1-30 November, $192
Standard Bird Party of 4:  27 – 31 December,  $380
(Includes a bottle of vodka and a jug of energy drink)
Siloso Beach Party tickets can be purchased online at store.sentosa.com.sg.