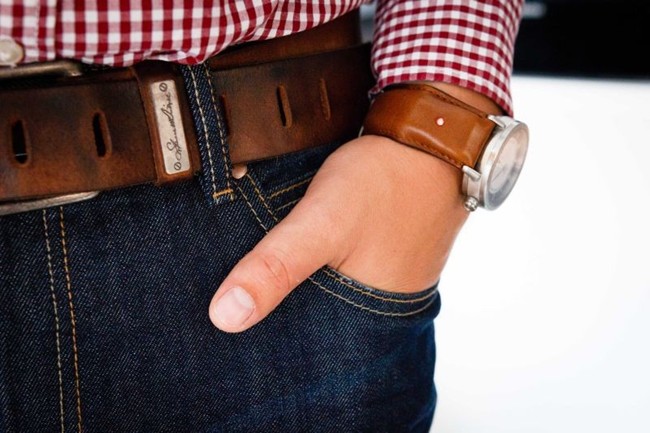 Thanks to uBirds' "Unique" luxury watch owners are being offered a chance to join the smartwatch revolution – without having to swap the watches we love for a downmarket modern device. You will be able to use your own watch to discreetly reject phone calls in meetings, know if a text has arrived, and monitor your fitness – and if you forget your phone and begin to walk away, "Unique" will alert you.
The technological leap forward for traditional watch owners is being made possible by a hidden-tech watch-strap developed by two Polish entrepreneurs – and all you need to do is swap the existing leather strap for the leather strap from uBirds. The Unique smart-strap uses a single LED and subtle vibrations to give alerts, and uses Bluetooth to connect to a phone using an app for iOS or Android.
"This is Godsend technology that has only been available until now to people who buy modern smartwatches…Most people would love their watch to be able to do all those things – but people who've already invested a lot of money in a status-symbol traditional watch either have to swap it for a chunky-looking modern device or, if they don't mind looking ridiculous, wear two watches. As classic watch lovers ourselves, we knew there had to be a better way, so we created Unique, a strap that hides all the technology so discreetly that you can carry on wearing your own watch but have all the fantastic new features at your fingertips." says co-founder Pawel Karczewski.
"It'll also take the place of any one of the passes you need these days to use public transport, enter a health club or get into a hotel room – all Near-Field Communication devices that our programmable NFC tag can emulate and store…While some smartwatches are elegant in a modern sort of way, anyone with a Jaeger-LeCoultre, a Rolex or even an inexpensive watch their grandmother gave them is hardly likely to want to give it up and buy a blingy modern device instead… even if it has been gilded by Hermes." says Pawel.
Pawel and his colleagues have offered the crowdfunding community the chance to back it via Kickstarter and it has already raised more than 60 percent of its $50,000 funding target in a week.