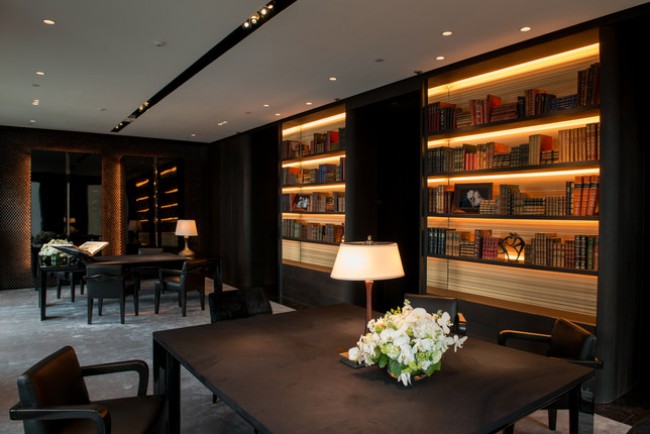 Taiwanese jewellery artist Cindy Chao has opened her first showroom in Hong Kong located on the 12th floor of 50 Connaught Road in Central. The 2,000 sqft gallery-like space took Chao, along with Australian design company Layan, nearly three years to complete. A black marble wall opens up to a darkened corridor, the focal points of which are glass cases where Chao's latest masterpieces are displayed. The space opens up into a large sitting area with tables, arm chairs and plush Fendi furnishings, the floor-to-ceiling windows offering ample views of Victoria Harbour. Dark wood panelling and intricate metalwork decorate one side of the wall, while the other is filled with shelves holding antique books on art and architecture from the 18th and 19th centuries.
"This showroom is part of our plans to shift our regional operations slowly to Hong Kong," says operations executive Yuting Hung. "Here, we will showcase all of Cindy's Black Label Masterpieces, and as we value the Hong Kong market very much, the city will be home to most of our special and unique pieces."
Among the pieces currently exhibited at the showroom is this pair of ear cuffs with diamonds in gold and enamel, inspired by roses in the winter from the 2015 Black Label series, and an exceptional pair of sapphire and emerald earrings from the Aquatic collection.
Chao is known for her sculptural take on jewellery with her pieces setting records for contemporary jewellery sold at auction. She celebrated 10 years in jewellery design in 2014.
The showroom is open by appointment only – to schedule a visit, please call +852 2561 8298.