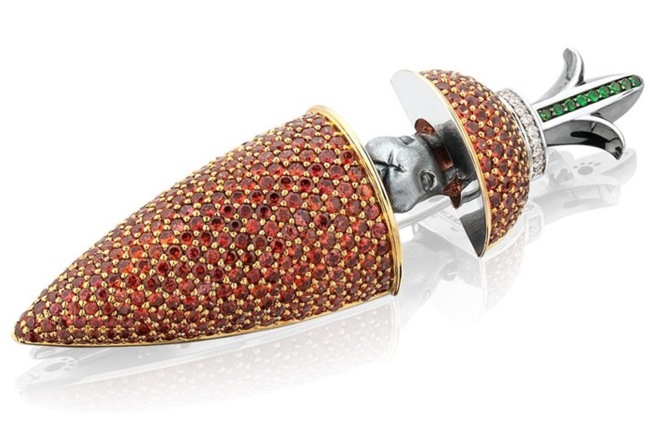 His works are mostly known for its steampunk influence, but Russian fine jewelry designer Vladimir Markin has a cutesy side to him too – his latest Carrot brooch is proof of that.
If there is one word to sum up Vladimir Markin's designs, it would be "different". For the past four years, the Moscow-based designer has been giving fine jewelry a wicked twist, thanks to his obsession with mechanical art and the steampunk movement. Rings come adorned with gears, necklaces can be taken apart, ebony wood makes up the body of rings, and pieces are crafted to replicate suspension bridges and floor plans of old cathedrals. Even his first Asian outpost on 8 Elgin Street in Hong Kong stands out among the other hipster stores in that area with a mural of a bearded man smoking a pipe taking up the entire exterior space.
The latter highlights the cheery approach he takes to some selected pieces in his repertoire. Earlier in his career, Markin featured a range inspired by bikinis and office stationery. This time round, he experimented with something even cuter. The Carrot brooch is an 18K white gold and yellow gold piece adorned with orange sapphires, tsavorites and diamonds. A classic Markin touch: a push of the carrot's top will reveal a rabbbit peering with its head out.
US$15,000 (S$20,199)