In the premium watch trade where propriety and tradition are highly regarded, Tag Heuer is taking a different tack by championing non-conformism and a youthful, trail-blazing spirit, as embodied by its pair of new ambassadors.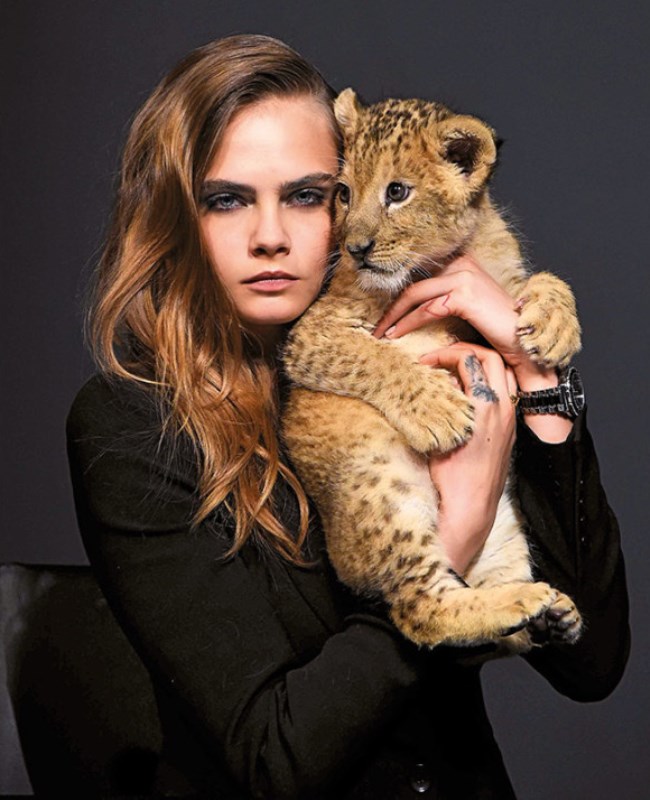 Born under the sign of Leo herself, Delevinge cuddles a lion cub at TAG Heuer photocall.
Cara's cool-girl attitude
The fashion industry is one with no shortage of beauties. But when British model/actress Cara Delevingne burst onto the scene in 2011, she not only made an instant impact but has also seen her stock skyrocket in just a few short years, becoming not only the It girl of fashion, but also the queen of social media.
With her trademark dark, heavy brows, delicate pixie face and intense, almost tigerish gaze, Delevingne has a strikingly different look that makes her stand out from the crowd. But it is as much her behaviour off the catwalk that has marked her as a maverick. From oddball antics and a fondness for pulling wacky faces – Karl Lagerfeld dubbed her the "Charlie Chaplin of the fashion world" – to multiple tattoos and a devil-may-care attitude, she makes it clear she doesn't give a toss what people think of her. And the young public loves her all the more for it.
—————————————–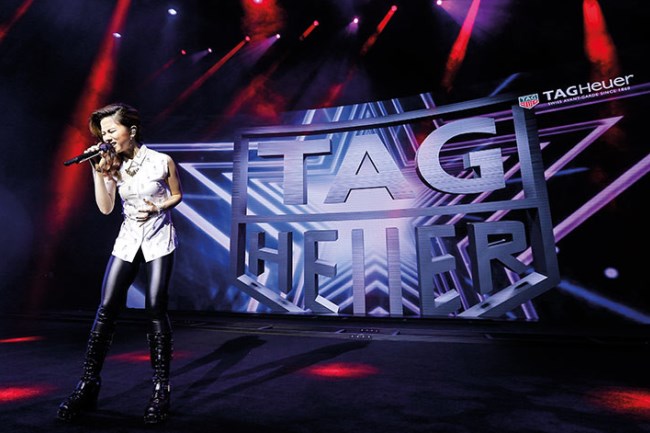 Known for her powerful voice, G.E.M. has been nicknamed "the girl with the giant lungs".
G.E.M.'s rise to fame
The career of Hong Kong-based pop sensation G.E.M. has followed a similarly meteoric trajectory. A musical prodigy (she started composing at age five and attained a grade eight in piano at 13), she was discovered by her future manager at a school singing competition and went professional at the age of 16.
Just a year later in 2008, her powerhouse vocals and songwriting prowess saw her pick up ten major awards, the start of many more to come. And later this year, she will literally be going stratospheric. As the first Chinese ambassador of Xcor, an American private spaceflight company, she will become the first Asian singer to head into space.
—————————————–
Social media presence is #1
For today's online generation, Delevingne and G.E.M are the icons of their time – trend-setting, dynamic, colourful individuals at the top of their game, known for their defiant streak and legions of followers on social media. That is why both were chosen by Tag Heuer as the latest additions to its family of uber-high achievers and hip wunderkinds the likes of David Guetta, Cristiano Ronaldo and Maria Sharapova.
Amelia Sillard, vice-president of Tag Heuer South-east Asia, says: "Through these ambassadors, we are targeting a younger audience. It is the market of today and tomorrow – the customer who can already buy a luxury watch and the customer who will soon buy one. With Cara and G.E.M., we speak a language that is understood by them."
The Formula One Lady Steel & Ceramic (32mm) Diamond Dial & Bezel in white
A more youthful appeal
The two new initiates will front the relaunch of Tag Heuer's Formula One Lady Steel and Ceramic collection, which includes two diamond-studded models and two chronographs. But beyond that, their purpose is also to create waves and connect with the target market of teens to thirtysomethings, re-establishing the brand as the aspirational label for young adults looking to purchase their first premium timepiece.
According to Sillard, the apparent move towards a younger market and image is really a matter of the brand opting to focus its efforts and energy on its core business – sporty, innovative watches with youthful appeal. "This shift is in line with our strategy to emphasise our strengths, to speak to a younger generation and not to try to be a status symbol," she explains. "In our history, we have not been a watch company like the others, but we have been different, disruptive and appealing to people who want to wear a watch that expresses their own values."