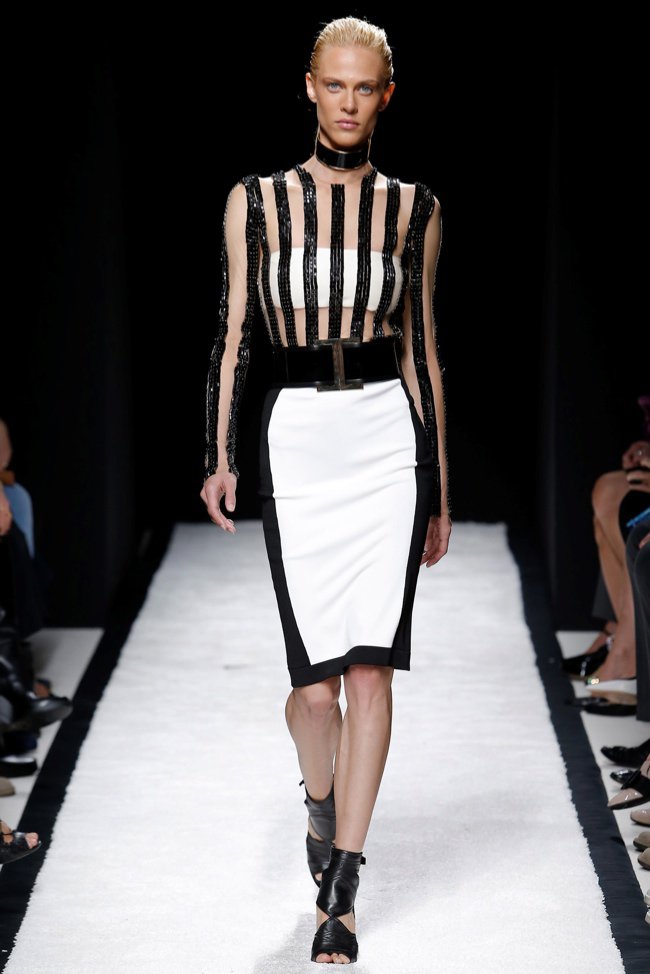 Olivier Rousteing, Balmain's 28-year-old creative director, is friends with Kardashian (19.1 million Instagram followers) and Rihanna (37.3 million Twitter followers) and understands perfectly the art of winning attention in the internet age. Fittingly, his spring/summer collection was inspired by an image shared on social media.
"One of the most popular photos from Balmain's last collection didn't focus on any of my designs," notes distributed at the show read. "It was a shot of Rihanna, seated next to me at the after party, and she looked amazing in her transparent top."
This starting point led him to thoughts of women in popular culture who are "proud of their bodies and unafraid to explore sensuality and transparency. You have to admire the way so many of these stars turn the tables on censorship."
Rousteing's models, whom he often refers to as the Balmain Army – were the epitome of social media savvy casting, and included Karlie Kloss, Rosie Huntington-Whiteley, Jourdan Dunn and Kardashian's sister, Kendall Jenner.