BARCELONA, October 21, 2016 — WardrobeTrendsFashion, Asia's High Fashion & Luxury Online Portal, won two Stevie® Awards in the 2017 International Business Awards. The two awards won are Gold Stevie® Award for Media & Entertainment website and Silver Stevie® Award for Magazine/Editorial Mobile Application.
Mr Koe Kim Wei, Chief Financial Officer, WardrobeTrendsFashion, interviewed at the 2017 International Business Awards
"We are humbled to be recognised internationally as the top media and entertainment website," said Mr Koe Kim Wei, Chief Financial Officer, WardrobeTrendsFashion. "This win affirms our hard work, and we will continue to fine-tune and strengthen the quality of our offerings for our readers, advertisers and stakeholders."
WardrobeTrendsFashion, also known by its tongue-in-cheek abbreviation of WTF, is the essential guide for the modern connoisseur. WardrobeTrendsFashion content rests on two pillars: Expert editorial, packaged with the Highest Production Quality. WardrobeTrendsFashion invests its resources heavily in being a content repository of all fashion and lifestyle news, campaigns, runway styles, lookbooks, and more, eschewing the more common online strategy of mere aggregation. WardrobeTrendsFashion also conducts research surveys across industries to provide an objective assessment of university rankings; wealth, power and more.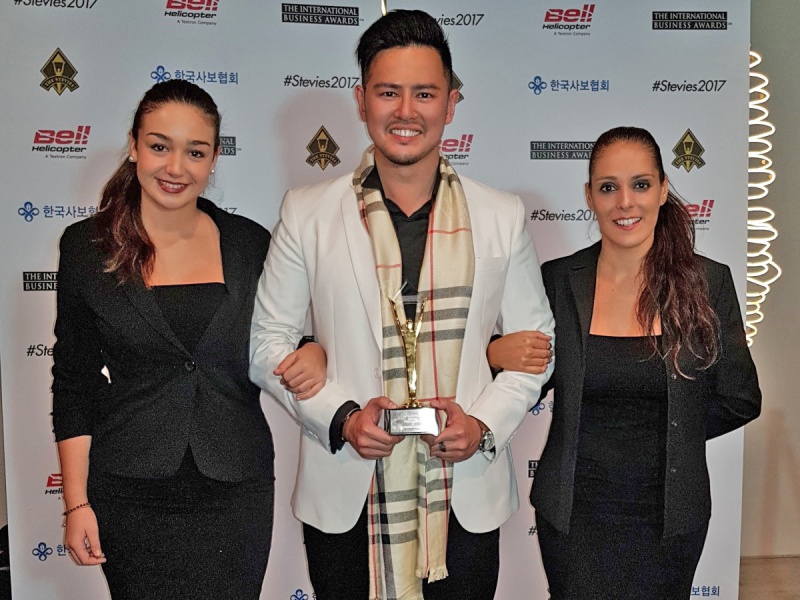 Mr Herbert Rafael Sim, Executive Chairman, WardrobeTrendsFashion
This approach has attracted a loyal following of readers through the years. The fans and followers across WardrobeTrendsFashion's social media channels are their testament. Prior to this award, WardrobeTrendsFashion won Double Gold awards at the 2016 Asia-Pacific Stevie Awards held at Sydney, Australia. And also won Gold award for Best Lifestye Website at the 2015 Asian Digital Media Awards jointly presented by World Association of Newspapers and News Publishers (WAN-IFRA) and Google held at Hong Kong.
The International Business Awards are the world's premier business awards program. All individuals and organizations worldwide – public and private, for-profit and non-profit, large and small – are eligible to submit nominations. The 2017 IBAs received more than 3,900 entries from more than 60 nations and territories. Stevie Award winners were determined by the average scores of more than 200 executives worldwide who participated on 12 juries.
Other award winners include: Capgemini, Deutsche Post DHL—worldwide, Noguchi Porter Novelli, Telkom Indonesia, Tata Consultacy Services (TCS), Union National Bank and more…
——————————————————————–
About The Stevie Awards
Stevie Awards are conferred in seven programs: the Asia-Pacific Stevie Awards, the German Stevie Awards, The American Business Awards, The International Business Awards, the Stevie Awards for Great Employers, the Stevie Awards for Women in Business and the Stevie Awards for Sales & Customer Service. Stevie Awards competitions receive more than 10,000 entries each year from organizations in more than 60 nations. Honoring organizations of all types and sizes and the people behind them, the Stevies recognize outstanding performances in the workplace worldwide. Learn more about the Stevie Awards at http://www.StevieAwards.com.
About WardrobeTrendsFashion
WardrobeTrendsFashion features high fashion and luxury news from various industries – automobile, aerospace, nautical, dining, watches, jewelry, technology, wine & dine, celebrity news, interviews; as well as charity – activities, events, campaigns by NGOs and Non-profit organizations, and more. WTF strives towards being the world's largest repository of fashion, beauty, watches and jewelry labels' campaigns and lookbooks from across the globe, a one-stop library research destination.
WTF readers are international and are mostly from the upper echelons of the business world, C-level executives, experts and personnel from the fashion industry, film industry, and more. WTF is accessible via domain urls, WardrobeTrendsFashion.com and WTFSG.com.