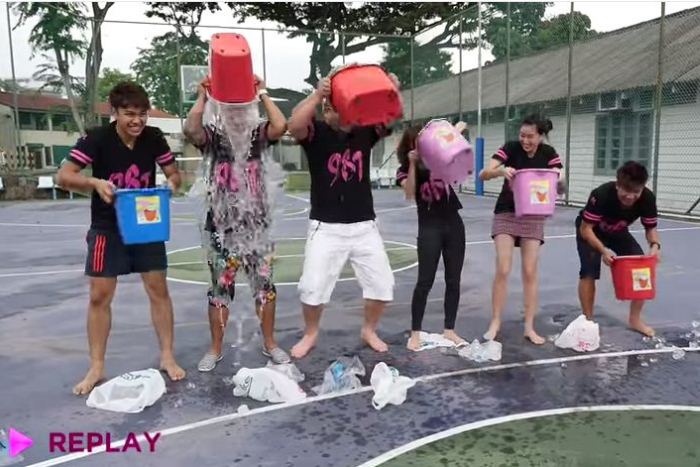 Singapore's 987fm radio deejays doing the ice bucket challenge.
The ALS Ice Bucket Challenge has arrived in Singapore!
If you're wondering why local celebrities are posting videos pouring buckets of ice on themselves, it is all due to a former athlete wanting to raise awareness for a cause.
What is it?
The idea of dumping cold water on one's head for charity started as early as mid-2013 but the current version of the ALS Ice Bucket Challenge started going viral in early July on American television. The movement gathered further momentum when former baseball team captain Peter Frates – who was diagnosed with ALS or  Amyotrophic Lateral Sclerosis – posted the challenge on Twitter, urging others to do the same.
ALS, also known as the Lou Gehrig's disease, is a disease that affects the nerve cells in the brain and spinal cord. It leads to muscle atrophy, difficulty in speaking and, eventually, complete paralysis.
The challenge requires participants to record themselves pouring a bucket of ice over their heads, then nominate three others to do the same. So far, several professional US athletes, global corporations and celebrities, including Justin Timberlake, Chris Pratt, Vin Diesel and Tom Hiddleston have responded to the icy dare.  The ALS association in the US has received donations amounting to S$1.4 million as of 12 August as a result of this viral social campaign.
The Ice Bucket Challenge in Singapore
Singapore celebrities George Young, Rebecca Lim, Jade Seah and popular 987FM radio deejays have already posted videos on social media of themselves being doused by buckets of ice to raise awareness about ALS, better known as Motor Neuron Disease here.
The radio deejays as well as YouTube personality Dee Kosh posted a link to the Motor Neuron Disease Support Group in Singapore in their videos.
Will this trend be effective in highlighting the cause in Singapore?
A video by radio personality Dee Kosh has garnered close to 7,000 views in over two days while the one posted by 987FM deejays quickly garnered over 16,000 views. Both were posted on 18 August.
Who will be next?
Prime Minister Lee Hsien Loong is among the popular figures who have been nominated for the challenge. Other personalities include radio deejay Rosalyn Lee and Fly Entertainment's Irene Ang.
We're waiting to see how they respond. In the meantime, will you take the challenge?
(Photos: Screenshots from YouTube/ Instagram)