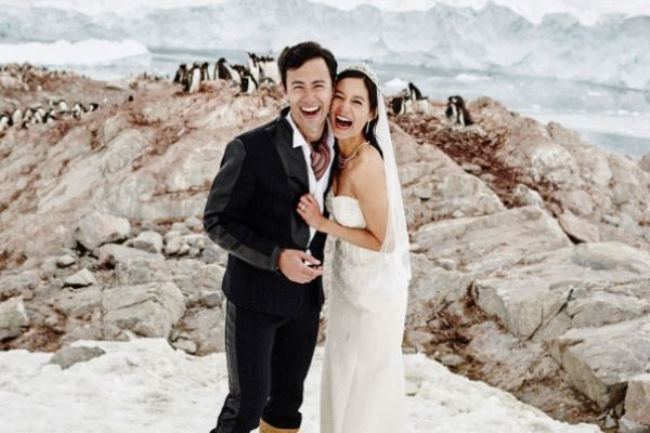 Fearless Taiwanese-American travel host Janet Hsieh is equally gung-ho when it comes to her romantic relationship with Singapore-based actor George Young.
Young, her newly minted husband, tells Straits Times Life!: "I said it as a joke – 'Janet, since you like travelling so much, let's go to Antarctica.' Janet being Janet, the travel-show wonderkid, she took it seriously. She took over, planned it all and we ended up getting married there."
The friends-turned-lovers announced their wedded bliss on their social media accounts in January by posting a photo of themselves holding a "Just Married" sign amid penguins in Antarctica.
Their exotic destination wedding will be aired as part of a new travel series that is still in the works. It plays up the couple's different personalities – Hsieh, 35, is a seasoned traveller and a daredevil, and Young, also 35, is, well, not.
Hsieh, who grew up in Texas, says: "I'm very used to doing challenging and adventurous things. George does not want to do them, but he was a trouper. He's doing all these things for the first time; his reactions are priceless. The craziest thing he did was to sit on a rodeo bull. When we were in Antarctica, we went kayaking and chasing after whales."
Read the full article here.
(Photos: Nick Onken/Erick Tseng)