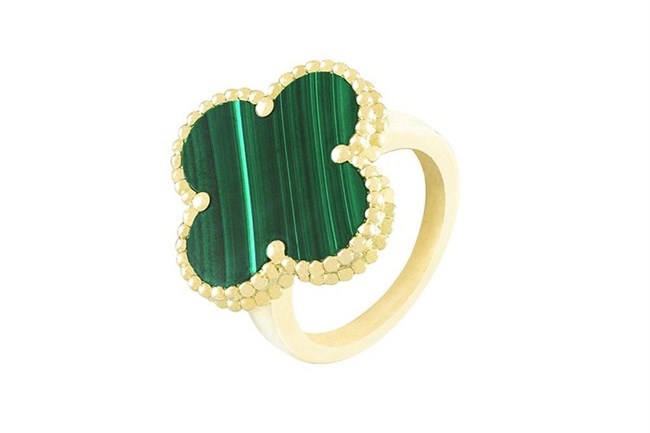 Magic Alhambra ring, yellow gold and malachite
Famed Parisian jeweler Van Cleef & Arpels is a big believer in the power of luck, an intrinsic if ephemeral quality of the Alhambra collection. Created in 1968, the iconic jewelry collection is defined by the shape of the four-leaf clover and expresses itself in myriad ways, including malachite in 2013. While you feast your eyes on the sumptuous green of the eight models in the Van Cleef & Arpels Alhambra collection in yellow gold and malachite, here are a few fun facts about the collection.
Since the 1970s, malachite has been dear to Van Cleef & Arpels. Princess Grace of Monaco was smitten by the Vintage Alhambra long necklace, which featured malachite; the necklace is today is very famous item of jewelry frequently presented at exhibitions. The name malachite, for those appreciate small details, derives from Greek and means mallow-green stone. The hard stone has been used in jewelry for thousands of years but the most famous instance of its use is in the Hermitage in St. Petersburg, Russia. The massive art and cultural museum features something called the Malachite Room, where entire columns and the fireplace are constructed in malachite.
The mineral malachite varies in its quality and Van Cleef & Arpels has applied the strictest standards and its particular talent for choosing wisely in creating the 2013 Alhambra collection in malachite. Sourced mainly from Australia – not the typical country of origin for the stone – the Maison tells us that this malachite is "distinguished by the homogeneity and regularity of its streaks." The jeweler's talent comes into play in matching the stones to ensure everything comes together, seemingly by magic, in each item.
The four-leaf clover shape emblematic of the collection is inspired by Jacques Arpels, who collected four-leaf clovers in his garden and presented them to his staff, along with a poem he had chosen. He meant the gesture as an admonition to always be hopeful.
Van Cleef & Arpels is currently celebrating this icon of luck throughout the world, revealing its history and unveiling new models. To mark the occasion, the Maison has developed a unique platform called ''8 Seconds of luck'' which enables web-users to share and send messages of luck.
Basically, the maison invites you to create a poetic 8-second video inspired by the Alhambra collection. Try it here. More pictures of the collection follow after the break below.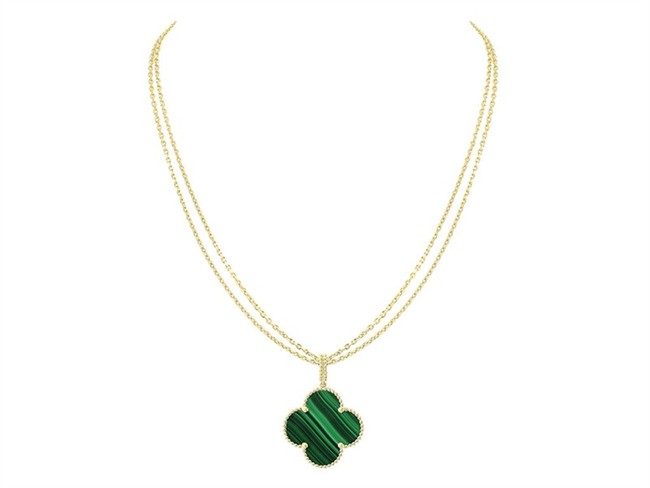 Magic Alhambra 1-motif long necklace, yellow gold and malachite. May be worn in several ways, notably in a short version by doubling the chain
Another view of the Magic Alhambra 1-motif long necklace, in the longer configuration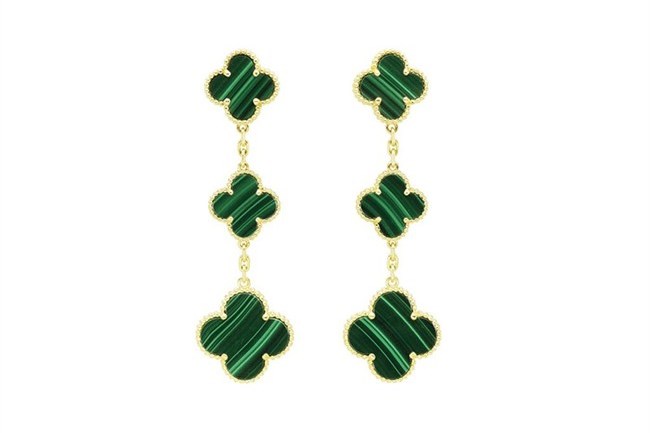 Magic Alhambra 3-motif earrings, yellow gold and malachite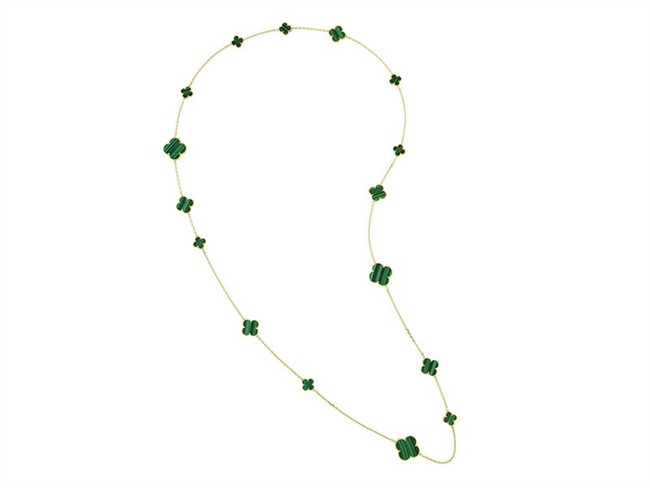 Magic Alhambra 16-motif long necklace, yellow gold and malachite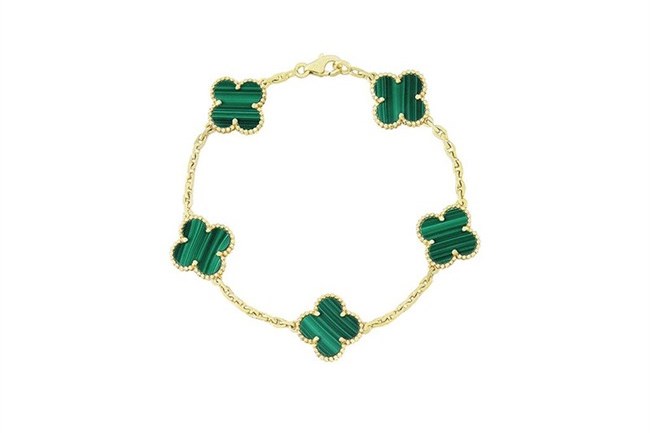 Vintage Alhambra 5-motif bracelet, yellow gold and malachite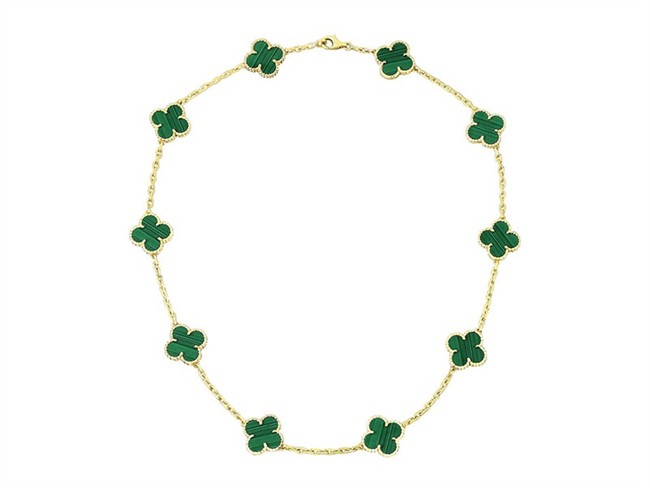 Vintage Alhambra 10-motif necklace, yellow gold and malachite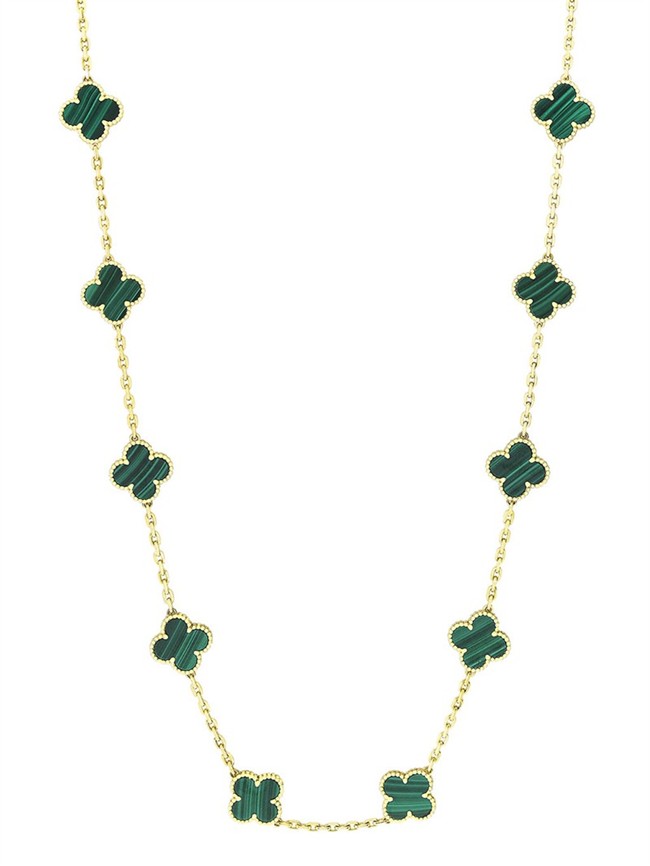 Vintage Alhambra 20-motif long necklace, yellow gold and malachite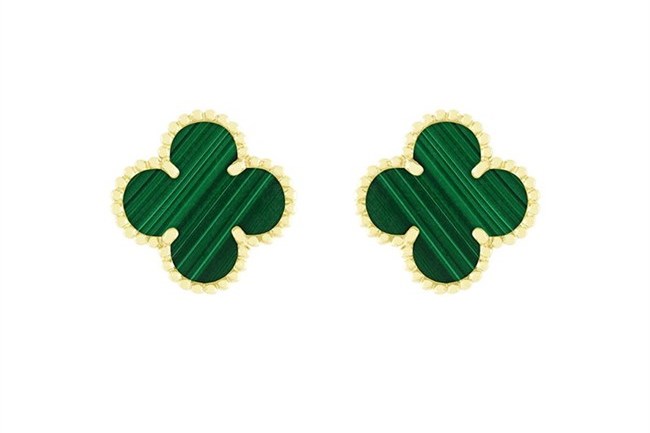 Vintage Alhambra earrings, yellow gold and malachite