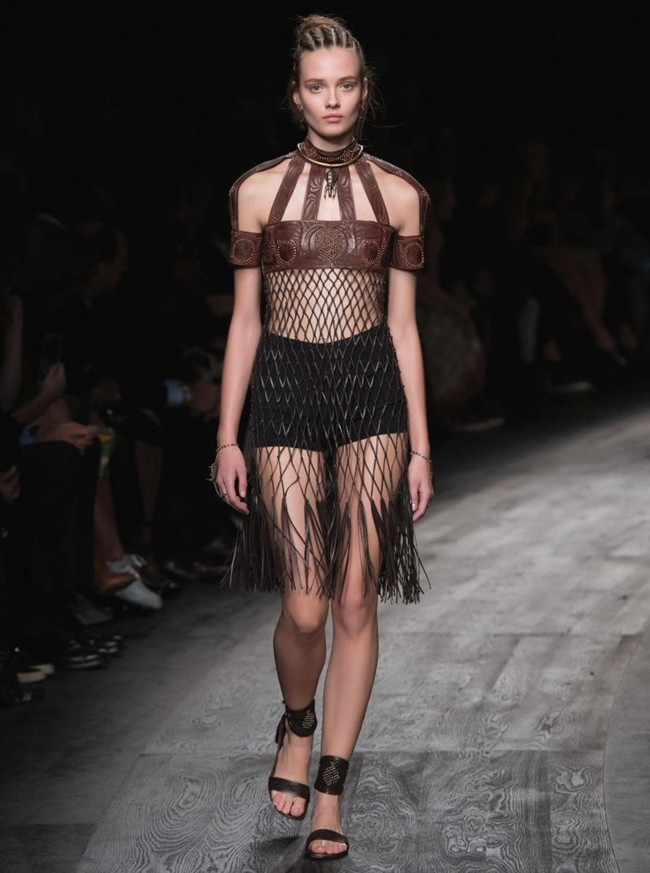 Following the thread of an emotional story embedded in the vital magma of contemporary culture, Maria Grazia Chiuri and Pierpaolo Piccioli accomplish a new stage of a very personal narrative journey for the Valentino Spring/Summer 2016 collection. Looking towards a place both real and stylized they leave Rome, the center and horizon of their own aesthetic universe, behind them, and always preserving their invaluable expertise of métissage and savoir-faire, they land in wild, tribal Africa. The journey is introspective: emotions and spirituality, sensuality and human touch are the key to the persistent research of beauty as an expression of virtue. The values of the Maison have always been refinement, individuality and timeless elegance and are reread from a new angle.
The collection expresses totemic and primordial grace. At the center of this story is a powerful and persistent figure with an incisive, vertical silhouette. Cuts are reduced to a minimum, as if the garments were created by spontaneous and immediate gestures. The urge of embellishment is an expression of presence: long tunics are held at the neck by necklaces and ornaments, while prints are concentrated on long dresses with a simple ancestral taste. The body is the protagonist being both vibrant and hieratic beneath scratched leather bustier worn with pencil skirts. Draped fabric generate unique pieces conveying regal grace. The mask, traditionally used as a form of disguise is readapted as an expression of a symbolic ego and full of pathos, is a recurring motif that appears in multiple patterns on bags, shoes and jewelry. Wood and metal ornaments accent the image, signs of an austere and palpable opulence. A collaboration with the artist Alessandro Gaggio has led to the creation of several high jewelry pieces in white terracotta with motifs that merge nature and human artistry.
Natural and substantial shades make up the color palette: notes of black, ivory, ebony, beige, dark red and forest green maintain the inspiration of the collection close to the earth. Africa as vibrant, as throbbing, as imperfect purity. These elements, that at the beginning of the 20th century have compelled many exponents of historical avant-garde movements to nourish from this same energy, return today as a compulsory necessity. The analogical, hand-made approach is the antidote to the digital deprivation of individual character in order to maintain authentic individuality.