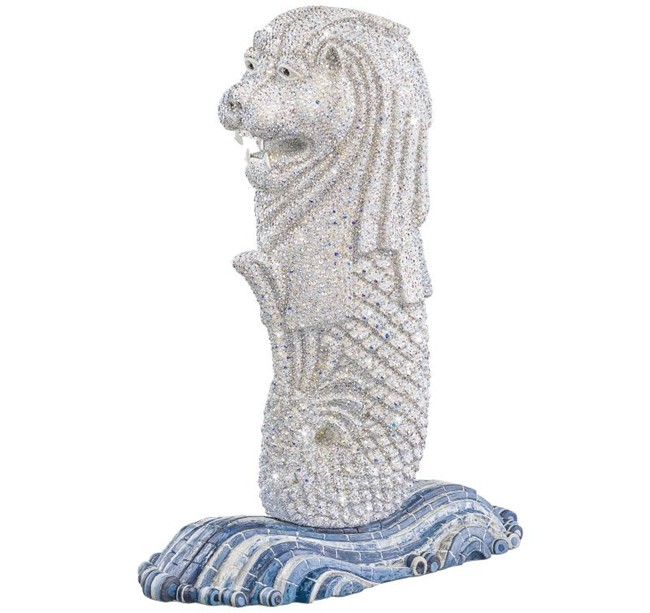 As Singapore commemorates its 50th year of independence, Swarovski marks the milestone in the nation's journey by presenting the new Swarovski SG50 collection. The commemorative collection, couples Swarovski's signature glamour and sparkle with the uniquely Singaporean spirit. The dazzling SG50 collection brims with familiar home-grown motifs and colors reminiscent of home.
Singapore's mascot, the mythical Merlion, sees a contemporary reinterpretation in the exclusive "Crystal Myriad Merlion". The traditional creature, renowned for its intriguing half-lion, half-fish combination, famously overlooks the Singapore waterfront. A unique piece of art with symbolic meaning, each glimmering piece is embellished with 15,793 crystals in clear crystal, Crystal Aurora Borealis, Crystal Moonlight, Crystal Silver Shade, and White Opal. Artisans spent 83 hours hand-setting the crystals using Swarovski's exclusive Pointiage technique. 23 hours were spent hand-crafting the base, skillfully using Ceralun (a ceramic material), mixed with various colors to imitate the real "blue and white marble base". It is available exclusively to Singapore in a limited edition of 20 pieces, and will be packaged in a special anniversary box including a Certificate of Authenticity.
To further celebrate the Jubilee, the highly coveted "Stardust" bracelet is designed in red and white Siamand Clear crystals representing the colors of Singapore's flag. With its clean lines and a subtle sparkle created by 1460 crystals, the bracelet is easy to wear and lends subtle sophistication to any occasion. For a sophisticated gift, choose from three new iterations of the "Crystalline Lady Ballpoint Pen". Three distinctly Singaporean motifs have been chosen as symbolic charms – Clogs, Samsui Woman and the Merlion. Filled with 140 clear crystals with a red lacquered metal barrel, each pen features a Swarovski logo on the clip and a silver metal tag with "SINGAPORE" engraved on it.
An adorable "SG50 Kris Bear" crafted from sparkling Swarovski crystal with three orchids clasped in his arms was also created for the collection. The three orchids are representative of Singapore's national flower, the Vanda Miss Joaquim, Singapore's first orchid hybrid and popular worldwide for its beauty, resilience and round blooming quality.