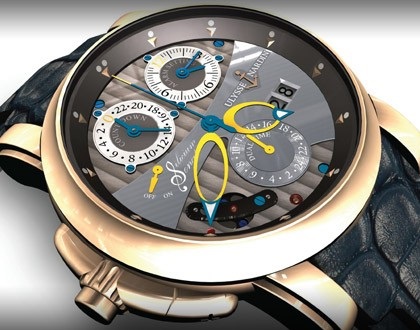 Two majestic firms claim bragging rights to overcoming friction in mechanical watches but each has a radically different solution. In the case of Ulysse Nardin, their faith in silicium is borne out in this limited edition beauty.
The watch features the supremely useful functionality of the Sonata Cathedral Dual Time – the instant time zone adjuster for the dual time mechanism, big date display and the 24-hour alarm system – along with three of the innovations unveiled by the Le Locle-based brand last year. These are the silicium hairspring (patent pending), front- and back-side etched anchor with integrated safety pin, and front- and back-side etched roller with integrated impulse finger.
This is the first time these technical elements have been used in a series production line, with the Silicium Sonata being limited to 300 pieces in white and rose gold. Fascinatingly, Ulysse Nardin also uses silicium on the dial itself, with some rather remarkable finishing touches (the dual time display) that will require more in-depth analysis.
(Source: Watch Tribune)