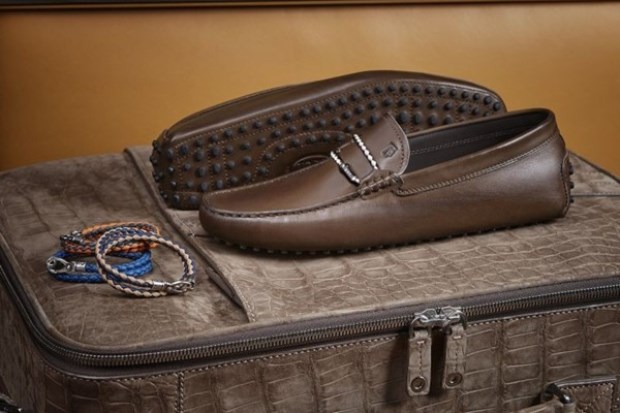 Tod's has launched the Gommino Club project, a new Men's Gommino with the iconic 'Scooby Doo' detail. Clients may now find in selected boutiques a Kit for the customization of the Gommino Club: a Tod's leather folder containing a choice of 15 different coloured leather swatches. From this, the client may select his preferred color to have his leather Tod's Gommino shoe custom made. Alongside the leather swatches, the kit contains tassels with examples of leather 'Scooby Doo' laces in assorted color combinations (mono-, bi- and tri-color) in order for the client to specify his preferred 'Scooby-Doo' color combination detail with 20 different color options.
The kit also has examples of hot-stamp styles to imprint your initials. The Gommino Club project boasts over 100,000 combinations. With the final selection made, the client will receive his personal order number on an exclusive membership card to track his order, featuring specified 'Scooby Doo' laces and hot-stamping. After which it's just matter of time before the client receives a unique pair of Tod's renowned classic moccasins with trademark soles, each comprising of 133 rubber 'pebbles' or 'gommini'.
The Tod's moccasin, better known as the Gommino, was created to combine classic Italian style with the comfort of a modern shoe. Designed to be worn on any occasion – formal or informal – this casual-chic moccasin takes inspiration from the driving shoes of the '50s'. There are over 100 steps to build a Gommino and, subject to the model, a single shoe may consist of up to 35 pieces of leather. Each piece must be individually treated and checked by hand before being assembled to create the final shoe. The process of hand craftsmanship requires the skill of artisans. The final product embodies the values of quality and style associated with Made in Italy.
Over the years, the Gommino has been regularly updated and a wealth of versions created, distinguished by a variety of materials, colors and embellishments. The Gommino Club model is the latest in this distinguished line.