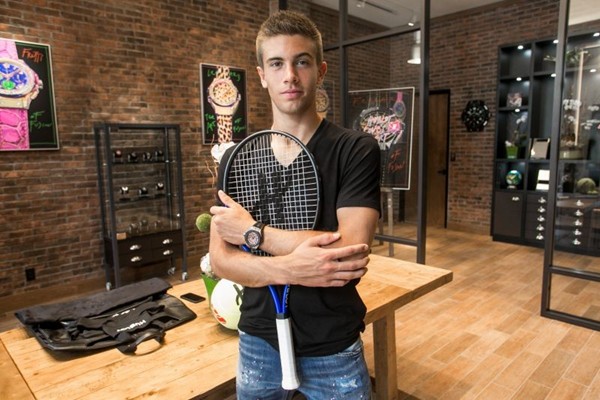 Swiss watchmaker Hublot has announced that Borna Coric, the fast-rising Croatian on the ATP World Tour, is its newest Brand Ambassador. Coric defeated world #1 Rafael Nadal last year and most recently world #4 Andy Murray. The young sportsman rose to #60 in the world at just 18 years of age, and was the winner of the ATP World Tour Rising Star award for 2014 as the youngest player to finish the year inside the Top 100.
"We are delighted to welcome Borna to the Hublot family. At Hublot, just as we are constantly seeking to develop new technology and new materials in our watch manufacturing, we also look to identify and support future talent in sports. As the youngest player in the men's top 100, but with such impressive results, Borna unquestionably represents the next generation of tennis. On behalf of all of us at Hublot, I congratulate Borna for his great performance so far and wish him the best of luck for the rest of the season." said Hublot's CEO, Ricardo Guadalupe, of the collaboration.
With a tattoo on the side of his right bicep that reads, "There is nothing worse in life than being ordinary," Coric's own personal values clearly align with those of Hublot: First, Different, Unique. He joins the Hublot's portfolio of legendary sports ambassadors including Pelé, José Mourihno, Usain Bolt, Dwayne Wade, Kobe Bryant, Maria Höfl-Rieschand and Michael Clarke. The watchmaker plans to celebrate the partnership with an event later this year.
"I have always had a passion for watches and Hublot has always been my favourite brand, without question. It's amazing to build a relationship with such a well-respected, firstclass and cutting-edge brand at such a young age. Everything that Hublot stands for suits my personality perfectly and makes me feel so honored to be associated with a brand that has ambassadors such as José Mourinho and Usain Bolt. It's a dream come true for me! I would like to thank Hublot for this exciting opportunity and their belief in me." commented Borna Coric.