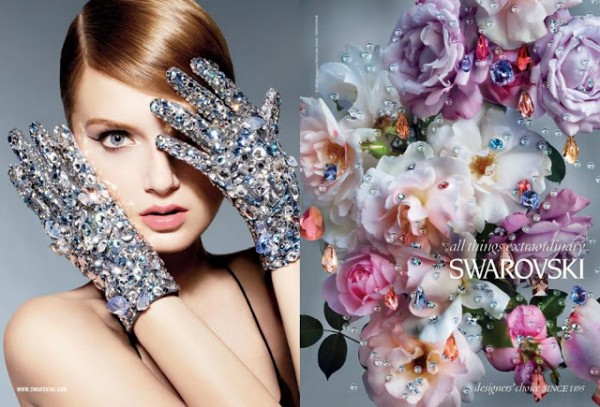 Director Ronnie Cooke Newhouse from House & Holme, Swarovski has launched a powerful new advertising campaign for 2013. Targeting the modern woman—strong and sensual, feminine and elegant—the 2013 advertising campaign stars stunning supermodel Candice Swanepoel as ultra-sleek action woman accessorized with crystal-encrusted sports accessories specially made for the photo-shoot.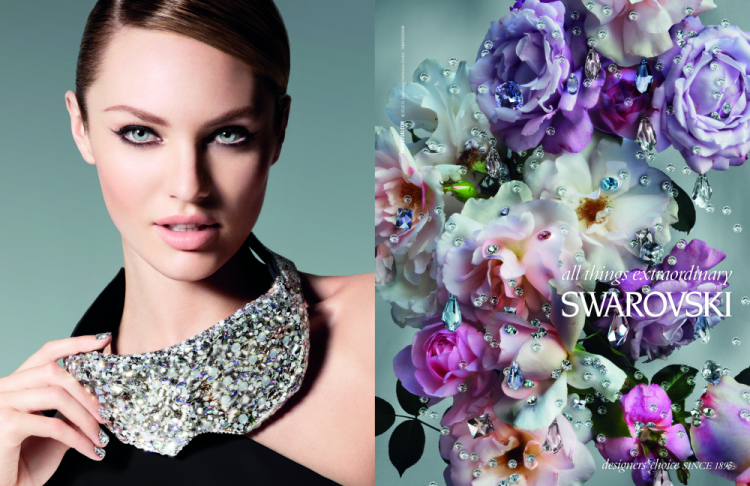 These arresting portraits are juxtaposed with dreamy still-life images of fresh
garden roses in pastel hues, crystalline dewdrops tumbling from petals. For Nick Knight, it
was the perfection of crystals and roses that drew him to the campaign concept: "…one
created by man and the other created by nature, but both the ultimate in luxury." For
Ronnie Cooke Newhouse, the link was to do with light: "I saw a common thread between
the natural beauty of flowers, which need light in order to grow and be seen, and the finely
crafted beauty of crystals that come alive in the light.'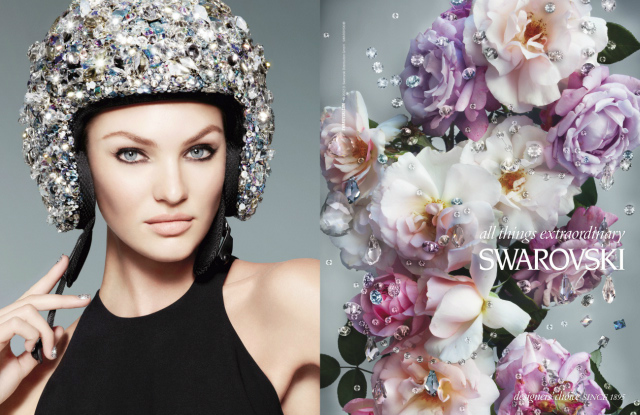 The fantasy props — motorbike helmet, dumbbell, and ski goggles — all reflect
SWAROVSKI ELEMENTS' versatility and innovativeness across a wide range of creative
industries, including fashion, jewelry, and accessories, and interiors, lighting, and
architecture. To emphasize its premium nature, selected global brands and designers are
permitted to use the distinctive trapezoid-shaped 'Made with SWAROVSKI ELEMENTS'
label. This serves as a certificate of authenticity, indicating the products that are made
using genuine SWAROVSKI ELEMENTS.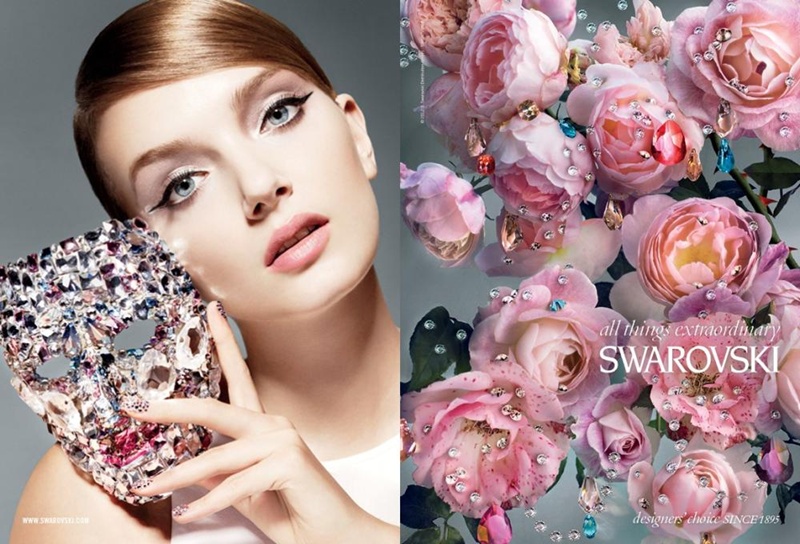 SWAROVSKI ELEMENTS is the premium brand for the finest crystal elements
manufactured by Swarovski. The designer's choice since the founding of the company in
1895, SWAROVSKI ELEMENTS provide global brands and designers from the fashion,
jewelry, accessories, interior design and lighting industries with the latest on-trend
innovations.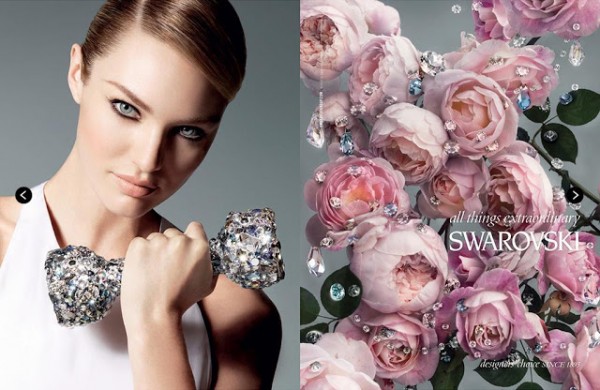 Available in myriad colors, effects, shapes and sizes, SWAROVSKI
ELEMENTS offer designers a fabulous palette of inspiration. Born out of a passion for
detail and high-precision cutting, they impart refined glamour to everything they embellish.
These precious ingredients can be recognized by their 'MADE WITH SWAROVSKI
ELEMENTS' label, which serves as a certificate of authenticity, identifying products made
with genuine SWAROVSKI ELEMENTS. Swarovski, a family-owned company for more
than 100 years, with values rooted in integrity, respect and excellence, is noted as much
for its ethics in business as for its contemporary artistry and innovative flair.