The World Of Diamonds Group has crafted an extraordinary 2.08 carat Fancy Vivid Blue Diamond ring in platinum and plated with rose gold, to celebrate Jane Seymour's accomplishments in the film industry. Blue diamonds of this saturation have been known to fetch over USD 2,000,000 at Sotheby's and Christie's in the past, however, this ring is priceless and has been created for the Group's private collection. The creation reflects the power celebrity who has clinched an Emmy Award, two Golden Globe Awards and a star on the Hollywood Walk of Fame.
——————————
April 25 –
Welcome dinner party for The Vortex & Jane Seymour
Seymour had the pleasure to gracefully wear the 2.08 carat blue diamond ring, The Jane Seymour, during an extravagant 12-course gastronomic Modern Asian dining experience at CÉ LA VI Singapore. Kirk Martin, CEO of CÉ LA VI Group, added "We are pleased to be the choice for this celebration and for having partnered World Of Diamonds Group for an exclusive evening, showcasing a customised Modern Asian degustation menu especially designed by Executive Chef Frederic Faucheux, paired with our finest wines that Head Sommelier Michael Leitner had tastefully selected". After the dinner celebration, the beyond rare blue diamond ring retreated to a vault as part of World Of Diamonds' private collection.
As Karan Tilani, Group Director of the WORLD OF DIAMONDS mentioned, "The invitation to behold this creation would rather you not compare The Jane Seymour to anything else in the high jewelry world. It is a celebratory treat, more comparable to a mega-yacht or a ticket to the moon."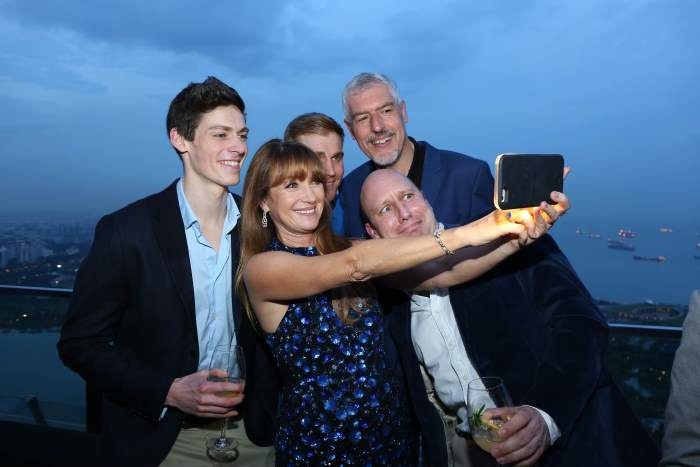 Alex Spinney, Jane Seymour, James Cartwright, Arthur Bostrom, John Fagan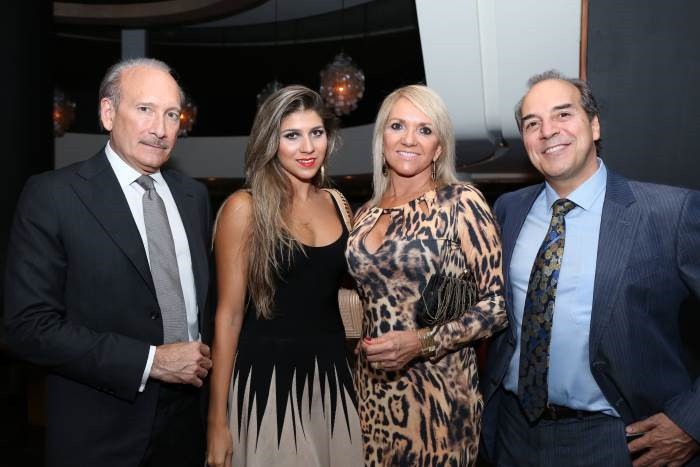 Kirk Martin, Barbara Faria Correa Gomes, Martha Faria Correa, Dr Marco Faria Correa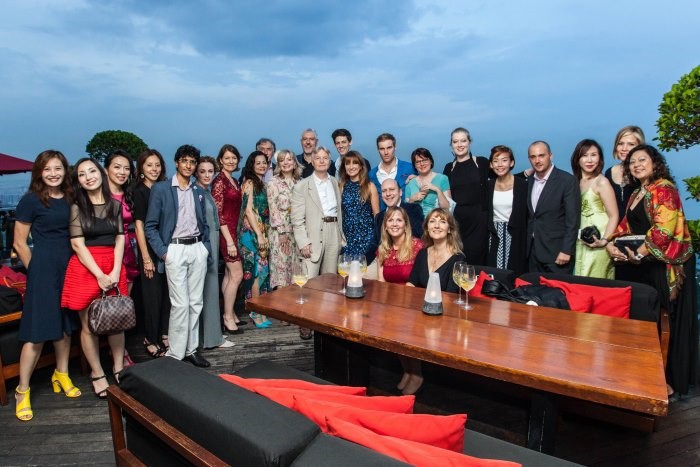 Guests of the Lavish Dinner Party presented by World Of Diamonds
——————————
April 29 – 'Art for Charity' Gala presented by WORLD OF DIAMONDS Group
Held at the iconic Raffles Hotel, World Of Diamonds Group was the presenting sponsor of British Theatre Playhouse's production, The Vortex at the 'Art for Charity' gala evening. Seymour received all the limelight from walking down the aisle from the Jubilee Hall Theatre to Raffles Ballroom for a grand dinner – themed 'Great Gatsby, Red Carpet Glamour', wearing the Ville de Genève diamond necklace – including a 18.18 carat Fancy-Vivid Pink diamond, from World Of Diamonds Group, valued at nearly SGD 33,000,000.
The prestigious and exclusive evening was graced with the attendance of prominent individuals from high society and including President Tony Tan & Mrs Mary Tan, the EU Ambassador to Singapore Dr Michael Pulch & Mrs Gabriele Pulch, British High Commissioner Mr Scott Wightman & Mrs Anne Wightman.
Cecelia Leong-Faulkner, Managing Director of the British Theatre Playhouse said, "With World Of Diamonds, one of the largest privately held diamond corporations presenting this prestigious gala and honoring Jane Seymour so generously, it simply represents the pinnacle of a palatial lifestyle."
President Tony Tan & Mrs Mary Tan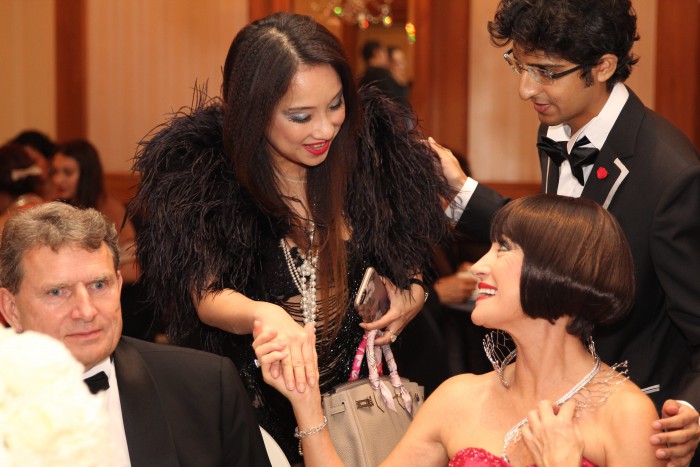 Karan Tilani introducing socialite Dato' Elaine Teh to Ms. Seymour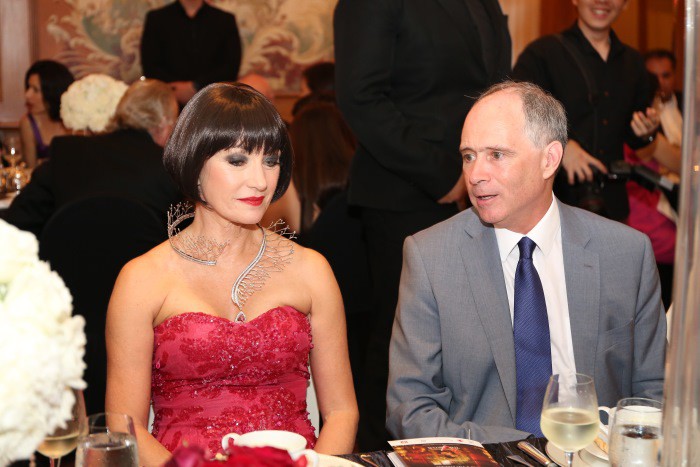 Jane Seymour, H.E. Scott Wightman, British High Commissioner to Singapore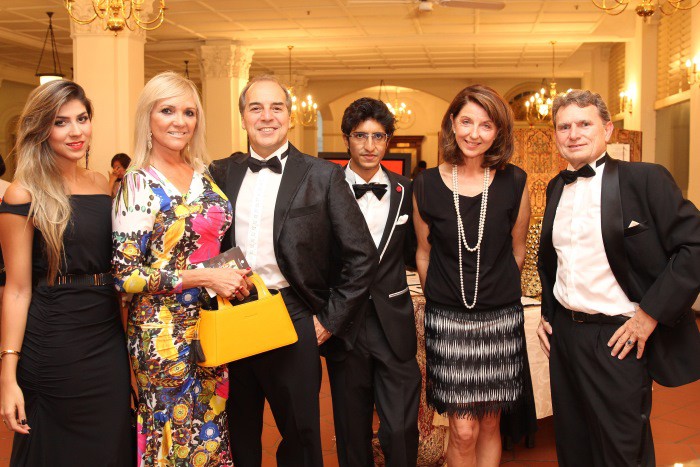 Barbara, Martha & Marco Faria Correa, Karan Tilani, Gabriele Pulch, Dr Michael Pulch, European Union (EU) Ambassador to Singapore
——————————
May 3 –
Lunch on board the Royal Albatross Ship
Hosted by World Of Diamonds, Royal Albatross and Resorts World Sentosa, a 4-course degustation menu by Osia Bar & Restaurant's Celebrity Chef was set out on a Luxury Tallship Charter Royal Albatross from 12pm to 3.30pm with the display of The Jane Seymour.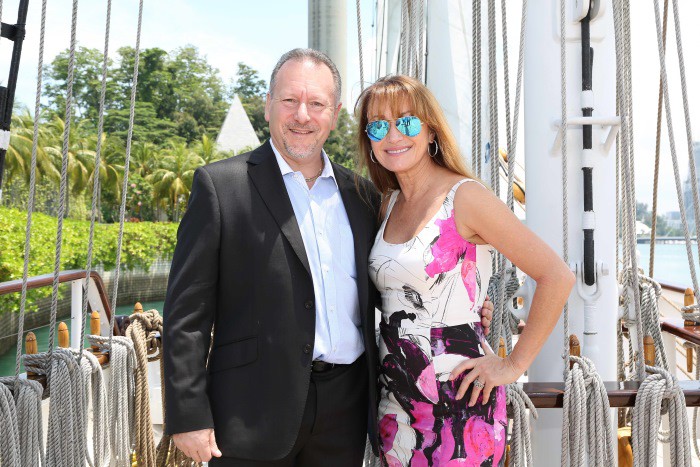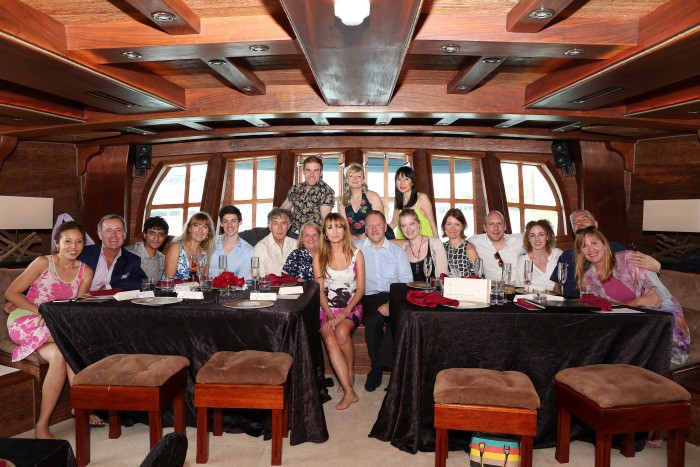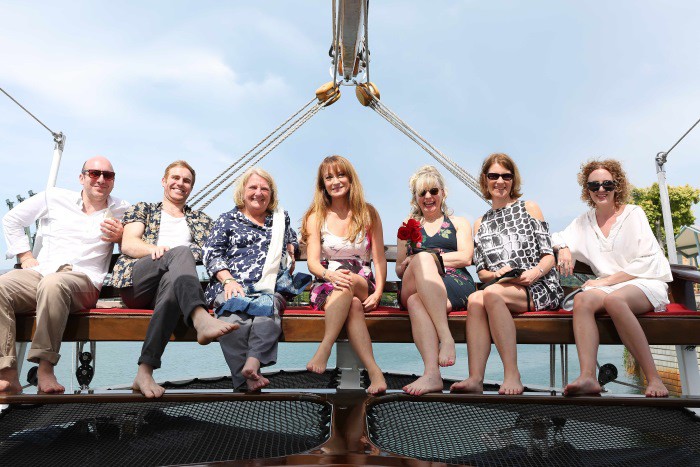 ——————————
May 6 –
Lunch at Angelina, Capitol Piazza
Hosted by the World Of Diamonds Group, an exclusive lunch was held in celebration of The Vortex at Angelina, Capitol Piazza. Among those in attendance were society friends including Cheryl Lee, Grace Kong, Ginny Chew, Group Director of World Of Diamonds Karan Tilani, and British-American A-list celebrity Jane Seymour, OBE. While being charmed by the exclusive ambiance of the sophisticated salon, guests indulged in a five course degustation menu, along with fine G.H. Mumm champagne pairings and Martell Cordon Bleu. Also on display for the afternoon was The Jane Seymour, a 2.08 carat Fancy Vivid Blue celebrity diamond ring crafted by the World Of Diamonds Group for its private collection.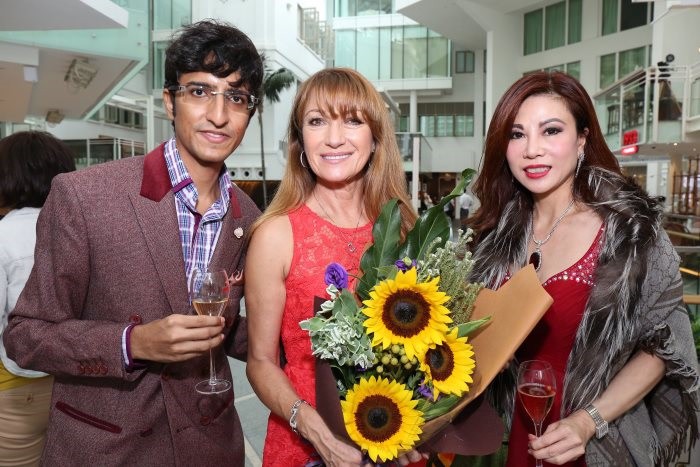 Karan Tilani, Jane Seymour, Grace Kong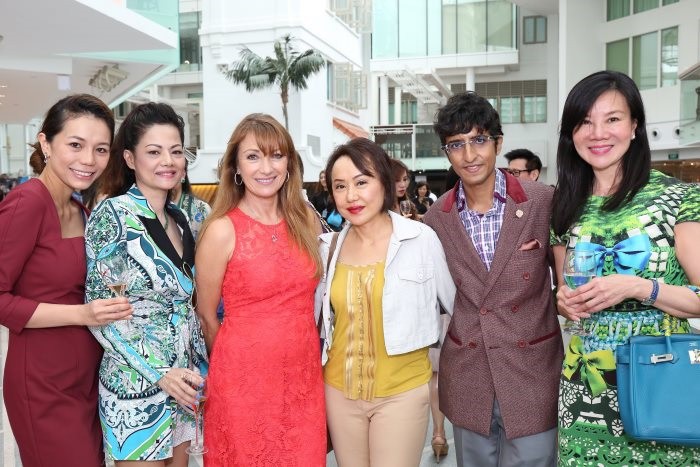 Ginny Chew, Suguna Madhavan, Jane Seymour, Jane Luhur, Karan Tilani, Marie Wong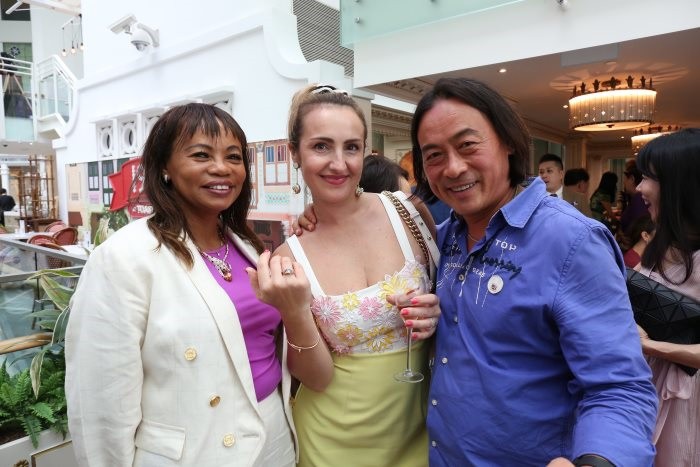 Grace Moshi, Anna Lysenko with The Jane Seymour – A Celebrity Blue Diamond Ring, Michael Ma
——————————
May 10 –
Celebrating at 1-Altitude
After-Dinner Party. World Of Diamonds Group & 1-Altitude celebrated the tremendous success of British Theatre Playhouse's production, The Vortex, at the world's highest al-fresco bar. In attendance were society friends, The Vortex star-studded cast members from London, and including Jane Seymour OBE and her partner, David Green. While guests enjoyed copious amounts of champagne and generous platters of tapas, The Vortex will be the talk of the town for many months to come.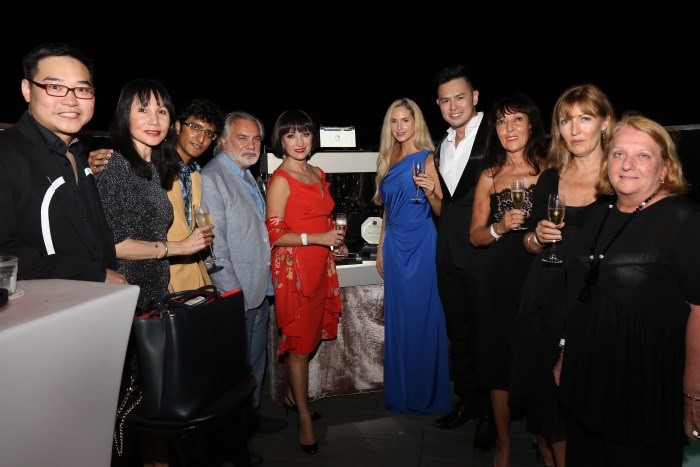 Chia Yew Seng, Cecilia Leong-Faulkner, Karan Tilani, David Green, Jane Seymour, World Of Diamonds Ambassador, Herbert Rafael, Sally Frankenberg, Annie Gough, Chrissy Maddison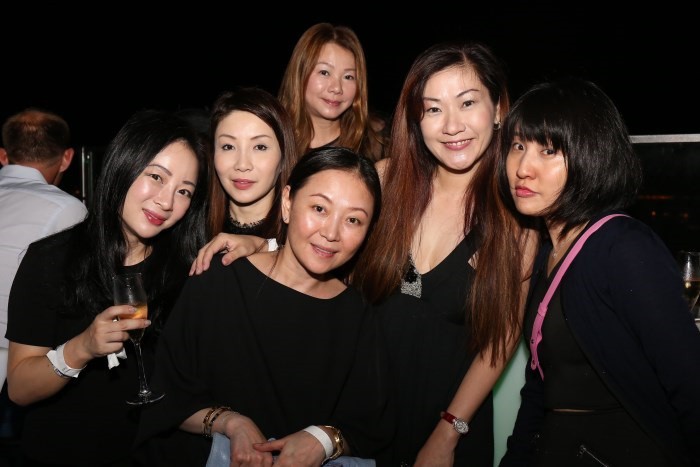 Serene Layanto, Yvonne Ng, Angela Ng, Stephanie Yong, Cindy Koharjo, Cynthia Chang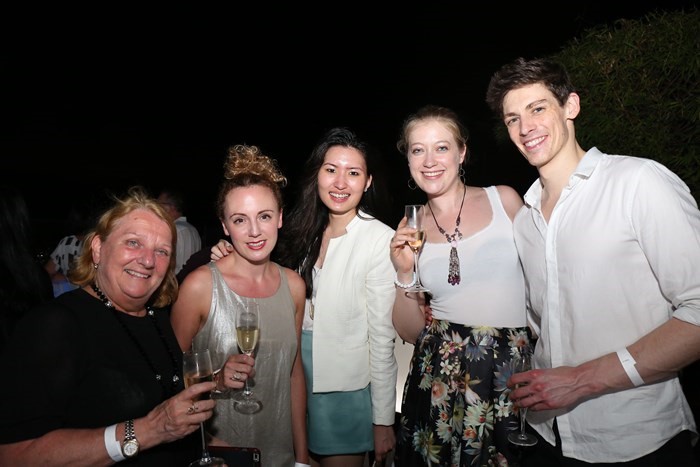 Chrissy Maddison, Kate Malyon, Ashleey Leong, Lisa Hurst, Alex Spinney