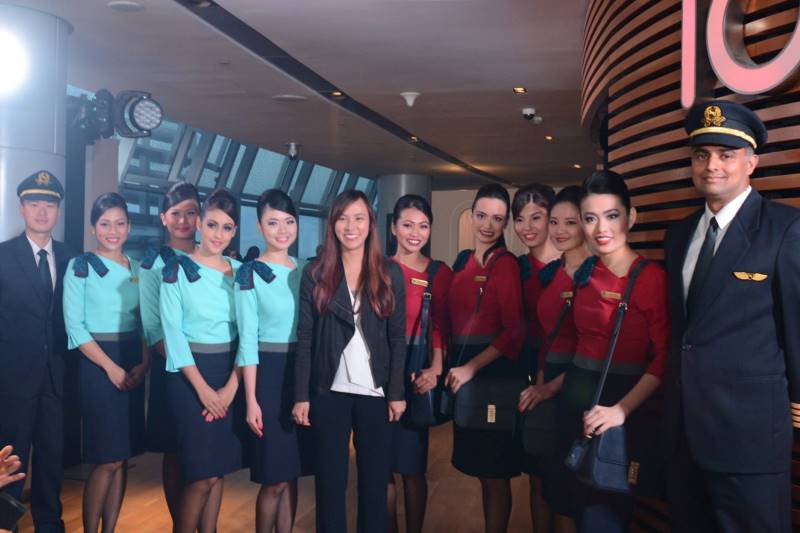 SilkAir is introducing new cabin crew uniforms on 15 April 2015 after 11 years with its existing one-piece wrap dress uniforms. The airline unveiled the new uniforms with a fashion runway-styled event held at the ION Sky in ION Orchard Singapore on 11 April, Saturday.
The two variations of the one-piece 'Alexandria Chen' uniforms are designed by NAFA graduate and fashion designer Alexandria Chen. The 'Alexandria Chen' collection was launched in April 2012 on the concept of "Fashion is a form of Art".
The junior crew will be fitted in aqua-blue/dark blue while senior crew will be fitted in plum-red/dark blue dress.
The richer colours of the new uniforms demonstrate a more premium appeal paired with a touch of vibrancy to reflect youthfulness. The dark blue skirts signify reliability and strong affiliation with parent company Singapore Airlines.
The shoulder point of the new uniforms are embellished with a seagull patterned georgette bow pin that represents SilkAir's corporate identity which is similar to the brand logo, sophisticated femininity.
SilkAir operates 350 flights weekly to 48 locations in 12 countries and will be launching flights to Cairns in end May. The airline continues to explore new routes around the region including China, India and Australia. The regional airline operates a fleet of 13 A320s, 5 Airbus 319s and 9 B737-800s.