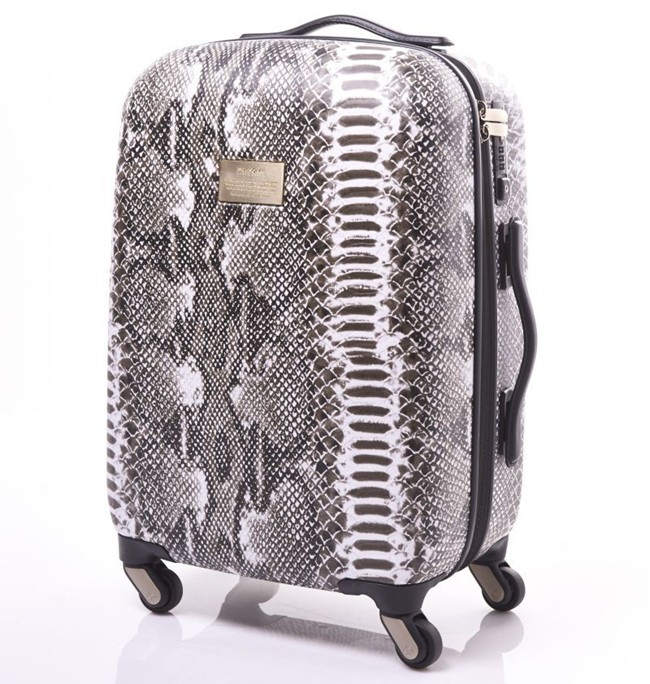 The Samsonite Black Label collection is already a leading example of fine craftsmanship, innovation and style. However, the latest Black Label Python collection, adds a dash of spunk and heaps of flair to Samsonite's already awesome luggage line. Embracing the concept of sophistication and pushing the boundaries of creativity, the Python collection is structured with a sturdy external shell and delicately furnished with an elegant interior.
The new collection boasts three refined models – the Spinner 55, Spinner 66 and Spinner 76. All three come saturated in bold plush shades of Red, Black or polished Grey-White, with the Python collection's signature animal skin pattern shell design. Debuting this Spring Summer 2014, the Black Label Python collection is casted with 100 percent polycarbonate, making each piece capable of enduring rough handling and external damages while remaining amazingly lightweight.
Each Python luggage is also equipped with a leather handle grip, leather ID tag and pull handle grip. Samsonite even adds a touch of class to each Python luggage with a champagne logo plate that complements the elegance of the design while augmenting the luggage's presence for easy identification amongst other luggage. The interior is lined with lightweight herringbone jacquard, embroidered with a Y-compartment strap and a luggage cover, with the addition of a shoe pouch, cosmetic bag, and ID tag.