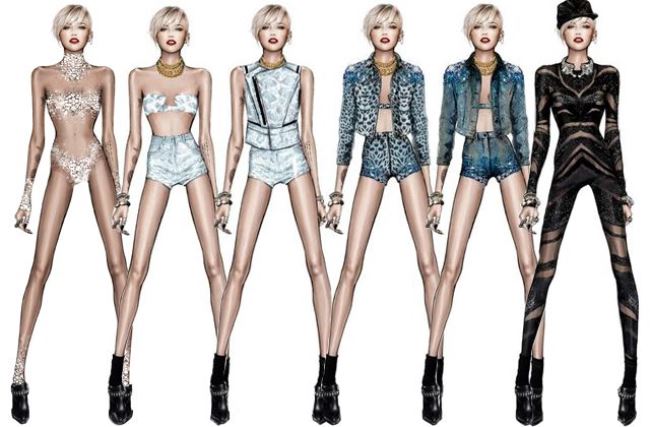 She may have made headline last year for wearing nothing in her music video for the song, Wrecking Ball, but Miley Cyrus' Bangerz tour will be a fashionista's dream come true!
It was confirmed earlier last week that Miley Cyrus enlisted Marc Jacobs, Jeremy Scott, The Blonds and Bob Mackie to design the wardrobe for her upcoming world tour, which will kick off on February 14, in Vancouver.
Not one to be missed off the checklist, Roberto Cavalli released sketches of his own designs for Miley on Monday. The other contributors might be keeping their costumes under wraps, but Cavalli's are as loud aand sparkly as you imagined from the maximalist Italian.
The creations by the Italian designer include a zebra pattern-embroidered black knitwear jumpsuit and a nude-effect jumpsuit in stretch silk tulle, with Swarovski crystals creating a bikini effect. Other designs are classic Cavalli, including leopard and python-print denim pieces with blue crystal dégradé and more over-washed denim with metal and crystal ombré embroidery.
But while Cavalli has plenty of experience in the tour costume business – the Spice Girls, Beyonce and Cheryl Cole all sit pretty on his CV – here's hoping that Miley has enough experienced hands helping her prevent any designer wardrobe malfunctions.
Check out the costumes and be sure to let us know what you think in the comment box below.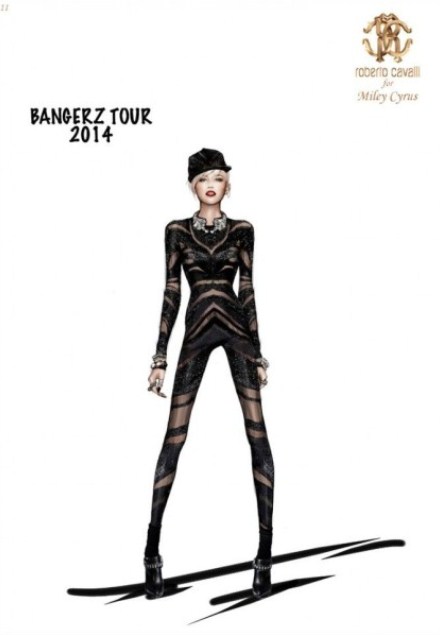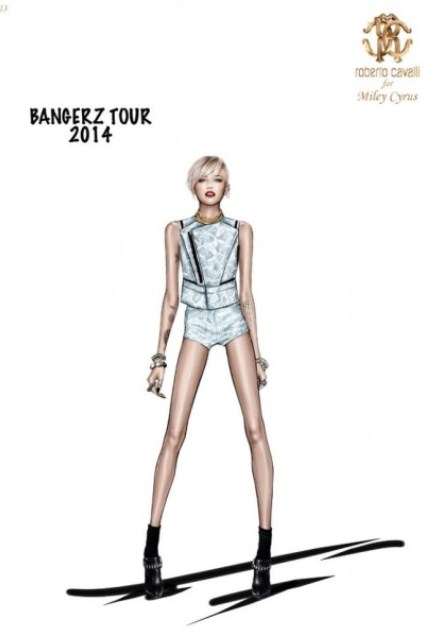 To find out more on Roberto Cavalli visit here: www.robertocavalliblog.com
(Photo Credits: www.fashiontv.com)