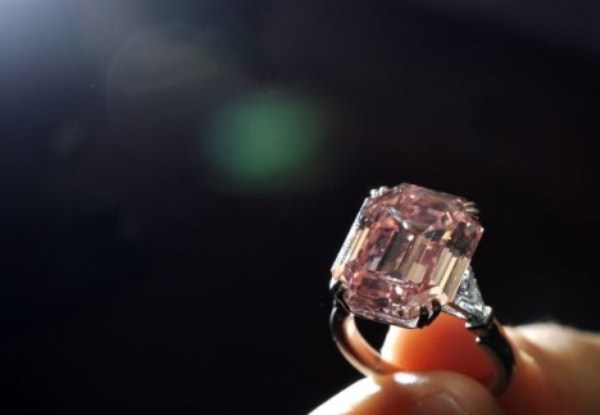 An extremely rare translucent pink diamond fetched a price of $10.8 million at a Sotheby's auction on Tuesday, the third-highest price ever paid for one of the pink stones at auction.
"It is the third-highest price for a pink diamond at auction," auctioneer David Bennett told journalists after the sale.
The 10.99-carat, emerald-cut stone was classed as a type IIa diamond, with the type II category making up less than two percent of gem diamonds.
The pure colour of the diamond, mounted in a ring, is classified as "Fancy Intense Pink" by the Gemological Institute of America (GIA).
Stones in this category are the most chemically pure and often have a rare transparency. They have been found in India and in more recent times in Brazil and Africa.
Valued earlier at between 8.3 and 14.8 million Swiss francs, the pink diamond had come from a private collection and had not appeared on the market for more than 30 years.
Sotheby's said it was one of the highlights of its "Magnificent Jewels and Noble Jewels" auction in Geneva Tuesday.
Another was an emerald and diamond tiara dating from 1900, as well as Kashmir sapphires and Burmese rubies.
The tiara sold for $10 million, not including commission, at the top end of how it had been earlier valued.
"I do not think that the market for coloured diamonds has ever been as strong as it is today," Bennett said.
A 24.78-carat Fancy Intense Pink diamond was sold for a record $46.16 million at a Sotheby's auction in Geneva in November.