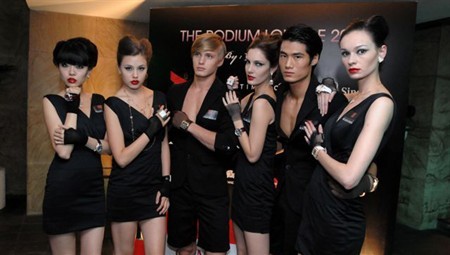 Now in its third smashing year, the Podium Lounge is the ultimate A-list party for the racing community and Singapore's party elite. Held together with this year's Singapore Grand Prix, the three-night party will see a glamorous contingent of F1 drivers, celebs, musicians, models and the jet-set crowd mingling in revelry.
Nestled within the race tracks and situated a stone's throw away from the F1 Pit Building at The Ritz-Carlton, Millenia, the star-studded Podium Lounge event by the hotel's Greco-Roman swimming pool offers up to 700 revelers an exclusive opportunity to rub shoulders with luminaries, beautiful people and the who's who in the racing circuit.
This year, you can check out Aston Martin's new V8 Vantage S and Virage, both supremely elegant and powerful sports cars. Also on show will be a series of luxurious installations spotlighting Vertu's well-established relationship with motor sports, including their latest limited edition carbon fiber handsets.
A quick run-down of what you can expect at the parties: Other buzz-worthy highlights include nightly haute couture swimwear shows by Silvian Imberg, with models accessorized with luxe Yafriro timepieces; live charity auctions of rare F1 memorabilia; also upping the already high-octane nights will be G.H.Mumm, the official champagne of the Formula 1™ Grand Prix, which will fly in a Sabrage master to sabre bottles of champagne for guests.
Organized by our friends at B-Yond, each of the 3 after-race parties are slated to run on Friday 23, Saturday 24 and Sunday 25 September. Limited tickets and VIP tables are now available for booking here. Watch this space for more updates as the event date approaches, and see you there!