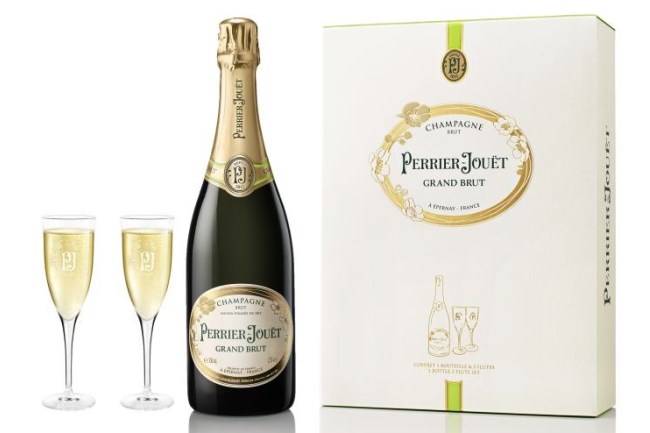 Celebrate this festive season with the special Perrier-Jouët Grand Brut Gift Set. The Gift Set consists of Perrier-Jouët Grand Brut and a pair of Champagne flutes that mirrors the floral, stylish and diamond-cut of the House of Perrier-Jouët, the hallmark of the House.
Discover the richness of Perrier-Jouët's exceptional wines and terroir this festive season with its flagship non-vintage cuvee Perrier- Jouët Grand Brut. This legendary Brut style was first created by Perrier-Jouët in a search for perfection and quality in 1856. The crowd-pleasing Perrier-Jouët Grand Brut embodies the floral, elegant and diamond cut style of Perrier-Jouët and is an elegant and delicate wine perfect for the holiday season.
A blend of 50 different Crus, Grand Brut expresses the quality and diversity of the Perrier-Jouët winemaking tradition. With 12 to 20 percent of reserve wines added, Grand Brut is dominated by the elegance and finesse of the Chardonnays (20 percent) from the best vineyards in the Côte des Blancs. The delicate structure is brought by the Pinot Noir (40 percent) primarily sourced from the Montagne de Reims and the Vallée de la Marne, but also from the best Crus in the Aube region such as Les Riceys. Pinot Meunier (40 percent) from the Vallée de la Marne brings harmony, fruit and roundness to the wine.