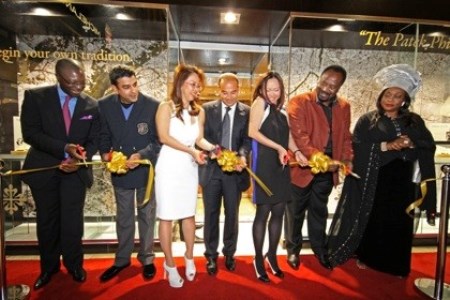 Swiss haute horlogerie stalwart and perennial collector's favorite Patek Philippe recently took its watchmaking know-how and legacy on a worldwide tour, with a showcase of museum pieces, cocktails and dinners in Singapore, as well as an an exhibition and cocktails in Johannesburg. Called The Values of a Family Watch Company, the exhibition came to Asia for the first time in May 2010 at the St. Regis hotel in Singapore.
The occasion was graced by Patek Philippe President Thierry Stern and his father, family patriarch and industry legend Philippe Stern. The Geneva-based brand not only brought out their precious museum pieces but also the 2010 novelties from Baselworld, including the slew of new chronographs, and the Star Calibre 2000.
Guests, retail partners, watch collectors and press from all over Asia gathered at the 10,000sqf space in the hotel to marvel at Patek Philippe's impressive patrimony.
Held over five days, according to the brand's statement the event drew some 3,100 people. At the same time, Patek Philippe also honored their guests with an interesting dinner setup, with different cuisine each night – from French and Italian to Mediterranean.
"This exhibition is an excellent opportunity for the public to witness the passion and our commitment to horological preservation with watch enthusiasts around the world. With the museum timepieces, one goes on a journey through the history of watchmaking. From the 2010 novelties and the Grand Complications, one understands the values that the brand holds close to our hearts," said Thierry Stern.
Meanwhile the Patek event in Johannesburg marked the re-opening of The Watch & Jewellery Gallery after a major, six-week renovation. Starting with an exhibition opening on June 28 and VIP cocktails on July 1, the affair celebrated the new space which now includes a much bigger Patek Philippe store-in-store boutique.
Operating under the auspices of GMT, it was the Watch & Jewellery Gallery's second South African Patek Philippe exhibition to date, having managed the brand in Africa for almost 15 years.
Mr David Martinez, Patek Philippe Area Manager for South/Eastern Europe and Middle East, welcomed guests who included Mr Brian Joffe, Mr Bright Igbinedion, Mr Iqbal Meer Sharma and Mr Mohseen Vallie Moosa, as well as Princesses Tirelo and Motswana Molotlegi from the Royal Bafokeng family.